Campus & Community
Phi Beta Kappa to Induct 55 New Members May 9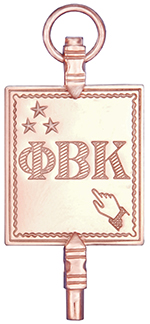 Fifty-five students will be inducted into the Syracuse University chapter of the Phi Beta Kappa honor society on Friday, May 9, at 1 p.m. in Maxwell Auditorium.
Micere Mugo, Meredith Professor for Teaching Excellence and professor of African American Studies in the College of Arts and Sciences, will give the faculty address and will also be inducted into the chapter. The student address will be given by Amanda Quinn '14 who was inducted into Phi Beta Kappa in 2013.
Phi Beta Kappa is the nation's oldest and most prestigious honorary society for students of the liberal arts and sciences. To be eligible for induction, students must have a major in the College of Arts and Sciences; meet a minimum cumulative grade point average; have studied a foreign language; and demonstrate basic competence in mathematics and good character.
This year's inductees, and their hometowns, are:
Lukas Alfen of Norwalk, Conn.; Margaret Blasi of Victor, N.Y.; Chelsea Blovat of Ilion, N.Y.; Nikkia Borowski of Auburn, N.Y.; Hualong Chen of Xiaoshan, China; Shuyuan Chen of Yangzhou, China; Erica Clapp of Wyomissing, Pa., Marika Cleto of Van Nuys, Calif.
Margaret Cregan of Mayfield Village, Ohio; Ella D'Amico of Westfield, N.J., Carolyn Dee of North Wales, Pa., Emma Edwards of Barrington, R.I.; Danielle Fallon of Nashua, N.H.; Benjamin Fang of Astoria, N.Y.; Jennifer Folger of Cranford, N.J.; Joelynn Frascatore of Oneonta, N.Y.; Kwang-Lee Gan of Singapore.
Riley Gardner of Chelmsford, Mass.; Amalia Golomb-Leavitt of Newton, Mass.; Nicole Gorny of Strongsville, Ohio; Thomas Green of Ballwin, Mo.; Angela Italia of Lake Peekskill, N.Y.; Alec Jacobson of Pittsford, N.Y., Nicholas Jones of Syracuse, N.Y.; Abby Legge of Omaha, Neb.
Rosa Leon of Syracuse, N.Y., Jingjing Li of Yingkou, China; Wai Kwan Li of San Juan, P.R.; Hatty Liu of New York, N.Y., Stephanie Long of Webster, N.Y.; Kimi Loughlin of Hingham, Mass.; Iti Maloney of Rockville, Md..; Rachel Mandel of New York, N.Y.
David Norcross of Boulder, Colo.; Kerry O'Connell of Shrewsbury, Mass.; Kaitlin O'Rourke of Basking Ridge, N.J.; Sibela Osmanovic of Jamesville, N.Y.; Liwen Qin of Beijing, China; Kevin Rice of Skaneateles, N.Y.; Anthony Rini of Clifton Park, N.Y.
Mary Salmonsen of Olney, Md.; Bo You Shi of Shenyang, China; Kimberly Skokin of Steilacoom, Wash.; Andrew Steinbach of Teaneck, N.J.; Brian Steinberg of Teaneck, N.J.; Bo Stewart of Bolivar, Pa.; Diona Symester of Bronx, N.Y., Ronald James-Terry Taylor of Hempstead, N.Y.
Amanda Tetro of Fulton, N.Y.; Samantha Usman of Glenshaw, Pa.; Kewei Xu of Shanghai, China; Ju Yuan of Zunyi, China; Junke Zhang of Shenzhen, China; Zhirou Zhang of Nanjing, China.