Veterans
IVMF Awarded Federal Contract to Expand Operation Boots to Business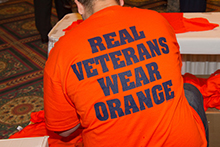 The Institute for Veterans and Military Families at Syracuse University (IVMF) has been awarded a $3 million cooperative agreement from the U.S. Small Business Administration (SBA), to extend and expand Operation Boots to Business, a self-employment training program available to U.S. military personnel, designed to support business ownership as a post-service vocation. The $3 million cooperative agreement includes two option years, each projected at an additional $3 million over the three-year term of the agreement.
"Syracuse University has a great legacy of welcoming veterans and their families home and helping them successfully transition to civilian life," says Syracuse University Chancellor and President Kent Syverud. "Operation Boots to Business has been an important part of that effort by utilizing our Whitman School of Management faculty and all the resources of the Institute for Veterans and Military Families. This announcement builds on that effort by expanding the University's reach globally to help military members and their spouses achieve success after they have served our nation."
Operation Boots to Business leverages both the Whitman School's highly ranked entrepreneurship faculty and education programs, and IVMF's national leadership in entrepreneurship training for veterans and family members, to deliver a world-class educational experience to service members. The IVMF designed and developed the curriculum for the Boots to Business Program, and piloted the training in collaboration with the SBA and the U.S. Marine Corps over the past year. As part of that effort, Whitman faculty and IVMF staff have trained Transition Assistance Program facilitators to deliver the two-day training on military installations across the United States, and to date more than 10,000 transitioning military members have participated in the program. The announcement acknowledges the impact of the pilot program, which will now be expanded to all U.S. military installations worldwide.
"The continuation and expansion of our partnership with the SBA, to train and empower transitioning service members as business owners, builds on what the Whitman School and IVMF do best," says J. Michael Haynie, IVMF executive director and Barnes Professor of Entrepreneurship. "Veteran-owned businesses represent nearly 2.5 million of all U.S. small businesses, employ more than 5.7 million Americans and contribute close to $1.7 trillion to the nation's GDP. Even more than all of that, I can think of few Americans more deserving of the opportunity to live the American Dream of business ownership, than those who have defended that dream while wearing the nation's military uniform."
"Veterans are leaders, innovators and doers, and the 'Boots-to-Business' program provides the guidance to tap into those attributes. Syracuse University is a great home for 'Boots-to-Business,' and I am glad the SBA recognized the Institute for Veterans and Military Families' tremendous work in developing and growing this program," says U.S. Sen. Charles Schumer. "When veterans return home after serving our country, it is important that we do everything we can to provide them the tools they need to find a job or start their own business. Supporting programs like those at the Institute for Veterans and Military Families is exactly the kind of federal investment we should be making."
"I am thrilled with this strong investment for Syracuse University's Boots to Business program to help more of our veterans become local business owners," says U.S. Sen. Kirsten Gillibrand, who has fought hard to support the IVMF. "Our veterans who bravely served our country deserve every opportunity to succeed in our economy here at home. The skills they have honed are highly valuable assets for our economy. When we invest in smart initiatives like Boots to Business, we can help more veterans become entrepreneurs, get their businesses off the ground so they can thrive here at home and strengthen our economy."
"This is great news for the Institute for Veterans and Military Families and veterans in Central New York and across the country," says U.S. Representative Dan Maffei (D-Syracuse). "Boots to Business plays a critical role in providing transitioning service members with the tools necessary to launch their own small business. This grant will bolster the outstanding work that IVMF is already doing to provide new veterans with entrepreneurship training so they can create jobs and grow the economy."
SBA Associate Administrator Rhett Jeppson says, "We're extremely pleased that IVMF will continue to be an SBA partner in delivering the Boots to Business program to U.S. military members returning to civilian life. We look forward to working with IVMF to provide leadership and innovation to veteran entrepreneurs and their families."
IVMF's Boots to Business program manager Michael Schoeneck says, "It's been a privilege to work with the SBA, their resource partners and others to make sure we provide transitioning military members and their spouses with the tools to make small business ownership a reality. We support them with our world-class faculty, access to information, and network them with services and supports, and other veteran business owners. I look forward to even more aspiring entrepreneurs being reached with this program."