'Elect Her' Workshop Trains, Inspires College Women to Run for Political Office
Syracuse University will host an "Elect Her" training workshop on Saturday, April 5, from 10 a.m.-2:30 p.m. in 500 Hall of Languages Room 500.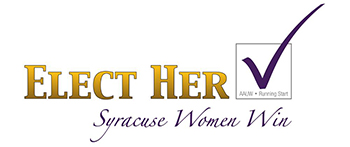 "Elect Her—Campus Women Win" is the only program in the country that encourages and inspires young women to run for student government and future political office positions. The program is a collaboration between the American Association of University Women and Running Start, and it addresses the need to diminish the gender gap in political leadership positions. Participants will practice hands-on campaign skills, hear from inspiring local speakers and discuss research on women in government.         `
The keynote speaker at the event will be Syracuse Mayor Stephanie Miner. Syracuse Common Councilor Jean Kessner will also present. There will be a panel of four Syracuse University students serving on Student Association, including Adrianna Kam, a junior studying selected studies in education with a focus in school counseling; Nia Boles, a junior psychology, neuroscience and pre-medical student; Daniela Lopez, a junior studying political science, policy studies and Spanish; and Allie Curtis, a senior political science and public relations student.
To attend, register at the following link: https://orgsync.com/10833/forms/96245/submission. A $10 deposit is required and can be paid at the Office of Student Activities in suite 126 of the Schine Student Center. Those who do not register and pay can still attend, but will not receive lunch.
Kam encourages all women, especially students in the School of Educatio,n to attend. "School systems are where concepts of gender social contraction and identity are built," she says. "This gender binary comes from our language, careers and expectations of gender roles. As future educators, it is imperative for us to be mindful, and promote leadership for females."
Elect Her at Syracuse is cosponsored by the SU Student Association, Elect Her, Running Start, AAUW and Women's Leadership Initiative at Syracuse University.