'Changing Sports, Changing Lives' Documentary World Premiere April 28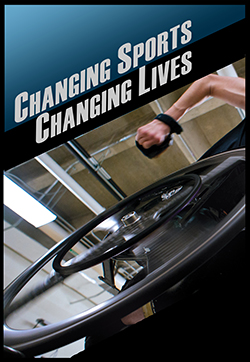 Students enrolled in SPM 300, "The History of Sport," have spent the 2013-14 academic year focusing their research efforts on sports that have been adapted to transform and enrich the lives of athletes with physical disabilities. In the fall semester, students worked as a research team, each one taking a specific assignment that became their final project.  In the spring semester, these projects have provided the collected body of research to produce a documentary film titled "Changing Sports, Changing Lives."
The film's world premiere will be held on Monday, April 28, at 4 p.m. at Watson Theater. The one-hour film will include a follow-up question-and-answer session and reception. Teaching the course and directing the film is Professor of Practice Dennis Deninger, a three-time Emmy Award winner.
To date, 65 people have been interviewed at several locations as the project explores a wide range of topics. The documentary will cover the role of early innovators, such as Tim Nugent, in the development of wheelchair sports for soldiers who were disabled in World War II. Nugent, who coached his first wheelchair sport at the University of Illinois 66 years ago, was interviewed and will be featured in the documentary.
Other topics include:
origins of adapted sports, including the founding of the International Paralympic Games as the Stoke-Mandeville Games in England 1948;
development of equipment that makes these sports possible;
the growth of collegiate and high school adapted sports programs;
adaptive sports' impact on wounded veterans returning from wars in Iraq and Afghanistan;
effects of the Americans with Disabilities Act and other recent U.S. government initiatives; and
the newest adapted sports and how they are broadening reach, appeal and participation.
Deninger explains, "'Changing Sports, Changing Lives' is giving our students the opportunity to learn about the remarkable power of sports and to be part of a unique research project, as it helps us build an archive of scholarly work that will expand in each coming year."
Each semester, SPM 300 pinpoints a single topic for students to conduct original research and interviews, use primary sources and explore multiple facets of the subject. Lacrosse was selected as the subject for the course's inaugural year because of its ancient origins and cultural connections in Central New York.  Deninger and his students produced the first Falk College research documentary, "America's First Sport," on the history, culture and remarkable growth of lacrosse in North America. It premiered in Syracuse in April 2013, and was presented nationwide on ESPNU.
For more information about the premiere, contact the Department of Sport Management at 315-443-9881.