Campus & Community
Unveiling of Second Annual 'Who Are You?' Postcard Project April 1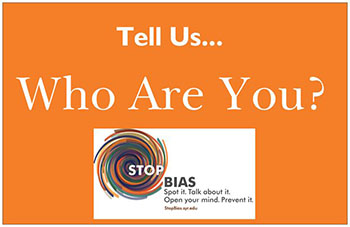 Last fall, the Anti-Bias Education Team of the Division of Student Affairs collected anonymous statements from students, faculty and staff answering the question, "Who are you?" The postcards submitted (approximately 200) will be on display in Panasci Lounge following the opening reception on Tuesday, April 1, from 6-8 p.m. in the Schine Student Center room 304ABC.
The reception is free and open to the public, and will feature an inclusive video sampler of the postcards with verbal descriptions of the content; performances by First Year Players, a student-run theater organization, from their upcoming show "Rent;" and the distribution of a limited number of STOP Bias T-shirts that can be personalized. Light refreshments will be served.
On April 1, students, faculty and staff are also encouraged to answer the question, "Who Are You?" in 140 characters on Twitter by replying to @Living_SU using #IamSU.
As an institution that values a community of diverse scholars, SU is committed to creating a safe and inclusive environment. In its second year, the postcard project allows campus members to define and describe for themselves who they are. The submissions are honest, authentic and powerful expressions of self that represent our global campus community.
The video sampler of the postcard project can be viewed on the STOP Bias Web site (http://stopbias.syr.edu) beginning April 2. Campus members can continue to participate in the project by completing postcards at the opening reception, or via the online form at http://students.syr.edu/whoareyou, as well as answering the question on Twitter.
The STOP Bias initiative was created to provide the SU community with resources to help those who have been impacted by bias incidents on and around campus. The website http://StopBias.syr.edu includes information on how to identify bias and ways in which community members can get involved with others and create a safe and welcoming environment for everyone. A key feature on the site is an anonymous web-based reporting tool that can be used by SU students, faculty and staff who have experienced or witnessed an act of bias. The tool collects information from the incident and offers the reporting person an opportunity to be contacted for further support, if they wish.
The postcard project reception is sponsored by Pride Union and the anti-Bias Education Team, in collaboration with the Office of Student Rights and Responsibilities and First Year Players.
For more information, contact Radell Roberts at rrober02@syr.edu.