Arts & Culture
'The Good Woman of Setzuan' Examines True Essence of Goodness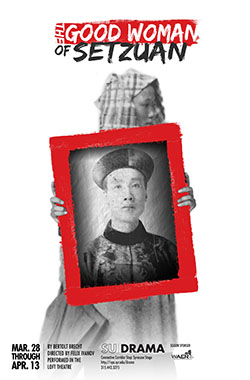 Can we practice goodness and create a world to sustain it? In Bertolt Brecht's comic and complex play, this question is raised by one of his most entertaining characters, Shen Tei, the good-hearted, penniless, cross-dressing prostitute, who is forced to disguise herself as a savvy businessman named Sui Ta so she can master the ruthlessness needed to be a "good person" in a brutal world.
"The Good Woman of Setzuan" will run March 28-April 13 in the Loft Theater at the Syracuse Stage/Drama Complex. Tickets can be purchased online at http://vpa.syr.edu/drama, by phone at 315-443-3275 and in person at the SU Drama Box Office, 820 E. Genesee St.
"The Good Woman of Setzuan" will be the first SU Drama mainstage production performed in the Loft Theater, located on the second floor of the Syracuse Stage/Drama Complex. As a 60-seat black box theater, the loft allows for flexible seating arrangements and a unique, up-close audience experience. Patrons may enter the building through the Irving Street doors (the usual entrance for the Arthur Storch Theater), and will be guided by ushers to the Loft Theater. Patrons who use wheelchairs or need physical assistance are asked to arrive early.
In addition to his many acclaimed plays—"The Threepenny Opera," "Mother Courage and her Children" and "Galileo," among others—Brecht was well-known for his Marxist principles and dramaturgical theories. He sharply criticized much of the theater of his day, labeling it "culinary theater" that was designed to placate and satiate the audience. Brecht wanted theater to arouse the audience and instill "wakefulness." He explained, "I wanted to apply to the theater the saying that one should not only interpret the world, but change it." (StageView)
Despite the fact that the major catastrophes of the 20th century undoubtedly influenced Brecht's significant contribution to theater arts, he nonetheless remained an optimist. He understood that theater should also entertain. Charles Isherwood of the New York Times noted in a review of a recent production of "Good Woman," "If you associate Brecht with heavy-treading, message-mongering nights at the theater, you may be taken aback to find how purely entertaining his work can be."
Director Felix Ivanov is a graduate of the prestigious Schukin Theater School at the Vakhtangov Academy Theater and the Stasov Musical School (violin) in Moscow. He has choreographed the combat, movement and character dance scenes for more than 300 Russian drama and puppet theaters, motion pictures and television. Currently, Ivanov is an assistant professor in the SU drama department. His stage movement and combat choreography have been seen at many American venues, including the Acting Company, Lincoln Center Theater, Metropolitan Opera, New York Theater Workshop, Wooster Group and Cherry Lane Theater in New York City; Guthrie Theater in Minneapolis; the Shakespeare Theater Festival in Cleveland; and Shakespeare Theater in Washington, D.C., among others.