SU to Present 'The Subject Is Lava' MOOC Starting April 7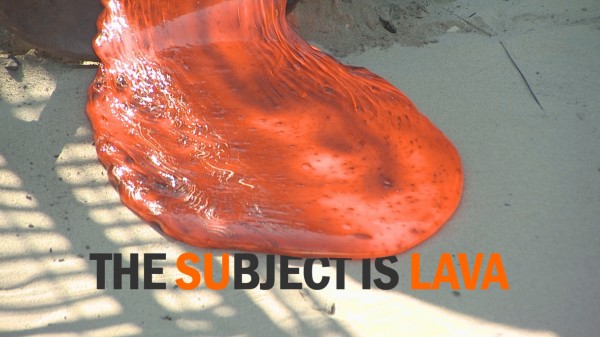 This spring, Earth sciences professor Jeff Karson and assistant professor of sculpture Robert Wysocki are bringing their popular Syracuse Lava Project to the world in "The Subject Is Lava," a massive open online course (MOOC).
The course begins April 7, and will explore the two main dimensions of the Lava Project:
the study of lava properties and behavior, and the powerful forces of volcanic action that constantly shape the landscape of Earth and other planets; and
innovative approaches to foundry practice that makes the pours possible, and the daring use of a new medium (lava) to produce large-scale sculpture similar to natural landmasses around the world.
"Landscape has been documented and recorded though history, in drawing, painting, photography and video, but it has not been captured sculpturally," says Wysocki, who is based in the College of Visual and Performing Arts. "My interest is in taking landscape painting into sculpture. I want to create the landscape using real materials to create a geomorphically accurate and correct landform that is legitimated by scientists as lava."
Basaltic lava, similar to that found on the seafloor and erupted from volcanoes in Hawaii and Iceland, is melted and poured to produce natural-scale lava flows. Professors Karson and Wysocki have created a control for pouring lava that mimics natural lava flows over land and ice, and into water. Their method has enabled researchers to safely observe lava, modify various factors (slope, temperature, surface) and repeat pours.
In this course, students will learn the following:
Lava basics: What is it? Where is it? Why does it behave as it does? How has it affected Earth and its inhabitants?
How do experiments contribute to understandings of lava, historically and in modern times?
What are the possibilities created by fearless, unconventional thinking and imagination in art?
"Flowing lava is fascinating, complicated, hazardous and beautiful," says Karson, who is based in The College of Arts and Sciences. "As it flows and cools, it changes character right before our eyes, such that the final form of a lava flow is a representation of many interrelated effects. We are very excited about sharing our exploration of this fundamental material with our online students."
Course topics are the following:
learning through experimentation, trial and error, innovation and discovery
the relationship between studying the natural world and masterpieces of landscape art
the potential of collaborating across disciplines and the discoveries it can yield
Students will also have a chance to propose an experiment to be conducted at the end of the course.
For more information and enrollment information, visit http://syracuseU.coursesites.com.