SU Campus Now Deemed HEARTSafe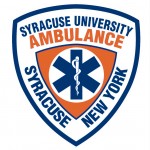 You feel a tightness in your chest. You're sweating. Your pulse is racing, and you're short of breath.
You could be having a heart attack.
The Centers for Disease Control estimates that nearly 1.5 million heart attacks are suffered yearly in the United States, and the early recognition of symptoms and access to treatment are the keys to survival.
"It's one of our more common ambulance calls on campus," says Jared Mandel, a first-year graduate student and emergency medical technician for Syracuse University Ambulance (SUA). But Mandel isn't just waiting for the next call for help. He's taking action.
Mandel and his colleagues at SUA have helped the SU campus become HEARTSafe certified. Mandel just returned from a national conference held by the National Collegiate Emergency Medical Services Foundation for collegiate EMTs, where HEARTSafe standards are set. "As an organization, we had a goal to get our campus designated as a HEARTSafe campus," says Mandel. Syracuse University is among five schools most recently certified with HEARTSafe campus status.
So what does being a HEARTSafe campus mean? For one thing, having nearly 1,000 people trained to perform CPR. Five percent of the college campus must be trained. Having a certain number of Automated External Defibrillators (AEDs)available on campus is also a requirement, as are meeting certain emergency response time standards and working well with mutual aid units (Syracuse University Ambulance works with Syracuse Fire and Rural Metro Medical Services on most serious ambulance calls).
According to EMS Manager Paul Smyth, SUA worked with several departments on campus to obtain this accreditation. The Department of Exercise Science assisted by teaching CPR and first aid to hundreds of students every semester, and the Department of Public Safety and Environmental Health and Safety Services assists with AED first response to campus emergencies. "This was a real collaborative effort and would not have been possible without the assistance of the other departments involved," says Smyth. Other collaborators include Rural Metro Medical Services and the Syracuse Fire Department.
"Access to those lifesaving tools and services," says Mandel, "is what embodies HEARTSafe, keeping students, faculty, staff and even visitors to campus safe. It shows our continual efforts to go above and beyond," as a campus-based EMS organization.