Campus & Community
Research Computing Renaissance at SU
Recent developments in Syracuse University's OrangeGrid and Academic Virtual Hosting Environments (AVHE)—both centrally managed by Information Technology and Services (ITS)—increase the University's resources for compute intensive academic research, and allow SU's researchers to tackle new and greater computational tasks, get them done sooner and increase the competitiveness of their grant submissions.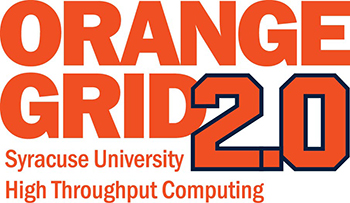 David Rivers, research assistant professor in the Department of Biology in The College of Arts and Sciences, hopes both these entities are expanded and made available to more researchers in need of such facilities. "I can only imagine the need for this kind of computing resource will increase rapidly since large data sets are now common elements of many basic research grants," says Rivers. "OrangeGrid and AVHE are extremely powerful and useful tools that have made my work much more productive."
SU's expanding computing grid, OrangeGrid, now routinely makes more than 10,000 CPU cores available to researchers for overnight processing. This is almost double the number of cores available a year ago. The upgrade to OrangeGrid 2.0 was largely complete in December, gives researchers more ability to push large amounts of data to the grid for use and provides additional controls for steering work to the right resources.
OrangeGrid (formerly known as the HTC campus grid) uses idle desktop computers in offices and student labs across campus to work on data-intensive research operations. Last fall SU received an award from the National Science Foundation (NSF) to facilitate high throughput research computing. Award funds are being used to upgrade the campus's data network infrastructure and thus increase the productivity of existing OrangeGrid users, and open the grid to a wider range of projects from SU researchers.
Infrastructure upgrades include the acquisition and installation of new equipment that will increase SU's campus network backbone from 10 Gigabit to 40 Gigabit and upgrade connectivity from the backbone to campus buildings from 1 Gigabit to 10 Gigabit.
The 40 Gigabit connections have all been completed, and the first one was put into production during the week of Feb. 17. These connections will enable OrangeGrid to serve new areas of science and allow researchers at SU to apply more computing time to a wider diversity of scientific work, without impacting daily operations.
Use of OrangeGrid has increased about 20 percent since September, with about five million hours of compute time provided per month. Researchers are taking good advantage of this capacity, including:
Sean Sweeney, a graduate student in The College of Arts and Sciences, who is running numerical simulations for his research in condensed matter theory with Alan Middleton, chair and professor in the Department of Physics. Their paper, "Minimal spanning trees at the percolation threshold: a numerical calculation" published in Physical Review E relied heavily on simulations run on OrangeGrid. "Right now I'm simulating shortest paths on two and three-dimensional square lattices in order to study the effects of boundary conditions on disordered systems, which will likely lead to another publication," says Sweeney. "Much of this work would not be possible without the extreme parallelization offered by OrangeGrid."
Rivers is using OrangeGrid for large-scale BLAST (Basic Local Alignment Search Tool) analysis. "OrangeGrid has allowed me to take large next-generation DNA sequencing datasets from seven species of moth and identify thousands of conserved genes out of millions of comparisons. OrangeGrid took a couple weeks to run my most recent query that would have taken me a year or two to run on a local machine, or I would have had to find an external source to do my analysis," says Rivers.
OrangeGrid's steady growth has enabled SU to join the global scientific community and share research computing resources when they are not utilized locally. As a result, 15 million hours of OrangeGrid compute time were spent on research over the last three months, making SU the largest all-time contributor to Einstein@Home, a volunteer computer-crowdsourcing group that uses the processing strength of idle personal or enterprise desktops to search for gravitational-wave emission from neutron stars. OrangeGrid uses the Berkeley Open Infrastructure for Network Computing (BOINC) to contribute to Einstein@Home, and eight other public science projects that pursue research in protein folding, malaria research, number factoring, drug molecular modeling and simulation, long timescale dynamics, and more.
The Academic Virtual Hosting Environment (AVHE) creates a customized cloud for researchers to perform small to moderate computationally intensive research tasks. The initial hardware supporting the AVHE is composed of the resources on campus designated for disaster recovery. When the hardware is not involved in disaster recovery efforts, it is available to the AVHE for academic work. Longer term, as researchers acquire funding for their research, they can purchase compute cycles, memory and disk space dedicated within the AVHE to support their research.
Oriented to support researchers who each need a single sizeable resource they can directly control, the AVHE can run most operating systems and supports a diverse blend of research efforts including SPSS, SAS, STATA, R and 3D rendering:
AVHE has been used by Rivers to do the phylogenetic analysis with the output from OrangeGrid. "The AVHE space has allowed me to run parallelized programs for running complex Bayesian comparisons of large numbers of genes," says Rivers. "Once again, runs that would have taken months on a single or dual processor machine, have taken days to run, saving time and allowing for more parameter adjusting without fear of losing large amounts of time."
Data from Rivers' analysis recently went into a preliminary grant at NSF from the Althoff lab in the biology department. "It would not have been possible to have those results if OrangeGrid or AVHE did not exist," says Rivers. "They have allowed for faster data analysis while increasing the competitiveness of submitted grants. In this tight funding climate they can make the difference between being funded and not."
The College of Visual and Performing Arts, in collaboration with ITS, is constructing a rendering "farm" for the speedy calculation of frames from 3D computer animations. The 60-core farm is based on the SideFX Houdini procedural modeling and rendering software, used for such films as "The Hobbit: The Desolation of Smaug" and "Skyfall." ITS has started discussions with the software vendor to expand this, using either AVHE to gain hundreds of cores, or OrangeGrid to gain thousands. Leveraging compute resources from the AVHE and OrangeGrid will allow students and faculty in the computer art program in VPA's Department of Transmedia to work on projects of longer duration with higher resolution and detail, and more complex visual effects.
The Plourde research group in the Physics Department is using 64 cores in the AVHE to run microwave modeling software, including Sonnet and HFSS, to simulate complex superconducting microwave circuits. Following the simulations, the group then microfabricates these structures and measures them at temperatures near absolute zero. The computing power available with the AVHE allows the Plourde group to simulate large circuit layouts rapidly.
For more information on research computing at SU, including how to put it to work on a research project, contact Eric Sedore at 315-443-3534 or essedore@syr.edu.