College Republicans Bring Former U.S. Rep. Ron Paul to Campus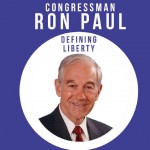 The College Republicans at Syracuse University have announced that former U.S. Rep. Ron Paul will speak on campus on Wednesday, March 26. "An Evening with Congressman Ron Paul: Defining Liberty," will take place at Hendricks Chapel starting at 7:30 p.m.
"The Executive Board collaborates at the beginning of every semester about speakers that we think would truly educate and inspire the students at SU," says Marissa Fenning '15, who serves as club chairwoman. "With this event, we're aiming to highlight all facets of the political landscape, including the growing number of Libertarians in office today."
Fenning says the College Republicans are excited about Paul's visit to campus, adding that it "really reflects upon our growth as a student group, and we greatly appreciate the support we have been given by the Syracuse University Student Association and a number of additional donors."
Along with serving in Congress, Paul entered the ring for the presidential race in 2012.
The College Republicans have 30 active members, and meet on Mondays at 7:30 p.m. at the Hall of Languages room 101.
Paul's discussion is free for all SU students (with a student I.D.) and $5 for non-students.