Campus & Community
American Indian Movement Leader Dennis Banks to Attend Campus Event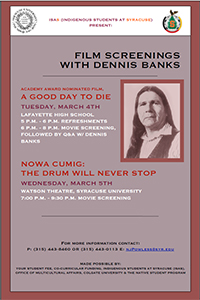 Dennis Banks, a founding member of the American Indian Movement (AIM), will attend a screening of "Nowa Cumig: The Drum Will Never Stop" on Wednesday, March 5, at Watson Theatre from 7-9:30 p.m. He will also attend a screening of the Academy Award-nominated film "A Good Day to Die" on Tuesday, March 4, at LaFayette High School from 5-8 p.m. He will answer questions after the LaFayette screening.
Banks spent almost two years at the Onondaga Nation, seeking refuge from the U.S. government . Both movies touch on what AIM is about, as well as Banks' dedication to native culture and heritage.
The events are made possible by student co-curricular funding, Indigenous Students at Syracuse, the Office of Multicultural Affairs, Colgate University and the Native Student Program.