Campus & Community
Theta Xi Chapter of Phi Beta Sigma Hosts Dome Concert with J. Cole and Elle Varner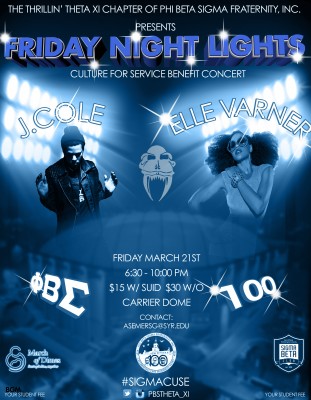 The Theta Xi chapter of Phi Beta Sigma Fraternity presents "Friday Night Lights: Culture for Service Benefit Concert," featuring Grammy award- nominated artists J. Cole & Elle Varner in the Carrier Dome Friday, March 21,  at 7:30 p.m. Doors open at 6:30 p.m.
The event ties in with Phi Beta Sigma's 100th year of service. As an organization founded on the motto of "Culture for Service and Service for Humanity," Phi Beta Sigma Fraternity Inc. takes pride in its principles of brotherhood, scholarship and service. Over the past two years, the Theta Xi chapter has raised more than $30,000 from concerts hosted in Goldstein Auditorium in the Schine Student Center, featuring such artists as Fabolous in 2012 and Big Sean in 2013.
The proceeds from these concerts have been donated to such causes as helping those suffering from the severe drought conditions in the Horn of Africa. This year's proceeds will go to the March of Dimes Foundation; the Sigma Beta Club, which is the fraternity's auxiliary mentorship program for middle and high school students; and several local foundations and schools.
Floor (standing) or first-level general admission tickets will be available during the special student online only presale, between Feb. 10 at 10 a.m. and Feb. 12 at midnight. Tickets are priced at $15 for current SU/ESF students (with a limit of four tickets per student) and $30 for non-SU students. The public sale starts Feb. 13 at 10 a.m. at ticketmaster.com, at the Carrier Dome Box Office (located at Gate B) or at the Schine Box Office for remaining student tickets. For any questions or concerns contact the fraternity's vice presiden,t Ayinde Emers, at asemersg@syr.edu or 315-396-9052.
For more information about the concert, visit the fraternity's Twitter & Instagram pages @PBSTheta_Xi or its Facebook page Friends of the Theta Xi Chapter of Phi Beta Sigma Fraternity Inc.