Campus & Community
SU Rising: Call to Action to Stop Violence Against Women Is Feb. 14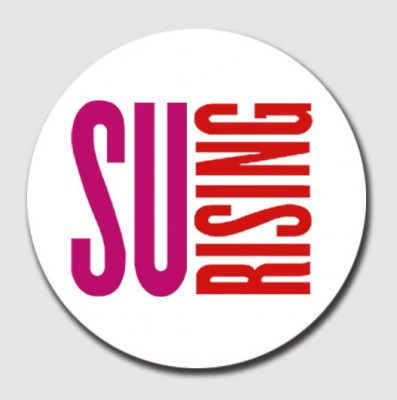 On Friday, Feb. 14, Syracuse University will continue to organize against the crisis of violence against women, both globally and locally. For the second consecutive year, SU Rising will join with playwright and activist Eve Ensler's "One Billion Rising" international call to action (http://onebillionrising.org) to draw attention to this continuing pandemic.
The event will begin at 6 p.m. at Hendricks Chapel and is free and open to the public. Everyone, including classes, is encouraged to attend and take a unified stand. Follow the conversation leading up to and during the event on Twitter at #SURising.
SU Rising will include remarks and performances by several Syracuse University organizations and student groups, including the South Asia Center, the Advocacy Center at SU, Students Advocating for Sexual Safety and Empowerment (SASSE), A Men's Issue (AMI), South Asian Students Association (SASA) and SU Zinda. The event will culminate with a candlelight vigil and moment of silence on the steps of Hendricks Chapel.
"One of the impetuses to organize SU Rising 2013 was the horrific Delhi rape case, and sadly the issue of violence against women has not gone away, globally, locally or on our own campus. We at Syracuse University want everyone to know that we are committed to shining light on this scourge for as long as necessary," says Tula Goenka, associate professor of television-radio-film in the S.I. Newhouse School of Public Communications, co-director of the South Asia Center in the Maxwell School of Citizenship and Public Affairs and faculty advisor of SASSE.
"Hendricks Chapel is privileged to host SU Rising again this year. Sexual violence is a pernicious and pervasive problem that plagues not just us in the United States, but people around the world," says Tiffany Steinwert, dean of Hendricks Chapel. "SU Rising joins our campus to the millions of other global citizens as we rise up to end violence against women and girls."
"As we stand together once again as a community calling for an end to sexual violence against women, girls and all marginalized people, we continue to build a social justice movement that can hopefully create lasting change in society," says Erin Carhart, a 2013-14 Remembrance Scholar, president of SASSE and director of Eve Ensler's "The Vagina Monologues 2014" performances at SU, Feb. 13-15.
Co-sponsors for SU Rising are the South Asia Center at the Maxwell School; SU Humanities Center; Hendricks Chapel; the Advocacy Center at SU; the Newhouse School; the Departments of Philosophy, Religion and the Women's and Gender Studies and LGBT programs in The College of Arts and Sciences; the Departments of Anthropology, International Relations, Sociology, the Executive Education Program and The Program for the Advancement of Research on Conflict and Collaboration (PARCC) in the Maxwell School; Students Advocating for Sexual Safety and Empowerment (SASSE); A Men's Issue (AMI); South Asian Students Association (SASA); SU Zinda; and Vera House.