SU Alumna Creates New U.S. Postage Stamp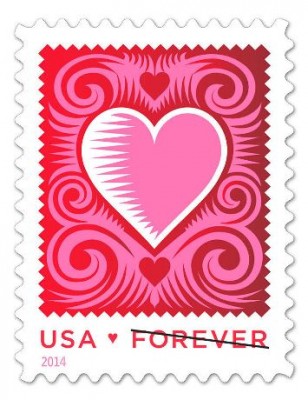 When it comes to matters of the heart, artist Q. Cassetti G'07 knows her stuff.
Her M.F.A. thesis focused on valentines, and as part of that she created more than 300 images of hearts. Those images were posted on her blog and caught the eye of Antonio Alcalá, art director for the U.S. Postal Service.
That's the short version of how the SU alumna found her work prominently displayed on a postage stamp. The USPS unveiled the stamp recently, and postal workers already believe they have a hit on their hands.
"Syracuse was the reason I got the stamp," Cassetti says. "I'm a trained graphic designer. I felt my work had gotten stale. I was 46, and had done everything on my bucket list, including corporate branding, working for Tiffany, Estée Lauder and various ad agencies. I decided I'd see if there were classes I could take, and Syracuse had a limited residency program through University College."
Cassetti pursued the coursework of digital media and drawing on the computer, and received an M.A. in illustration through award-winning artist and Professor Emeritus Murray Tinkelman.
"When I showed up the first day there were people in class who won gold medals from the Society of Illustrators. It was like going to the Harvard Business School for illustration. I was paralyzed for two weeks. The Syracuse program was fabulous," she says. "I would never have had this opportunity had I not become re-educated."
Cassetti says she gets a kick out of her friends getting excited about her work, or when her husband went to the Post Office to buy the stamps on the first day of issue. He was told by the clerk how much she loved the design and felt it would be a big seller "for Valentine's Day and weddings," says Cassetti. "It gives me great delight in doing something that people think is fun."