Campus & Community
NAHJ Presents Women in the Media Panel 2014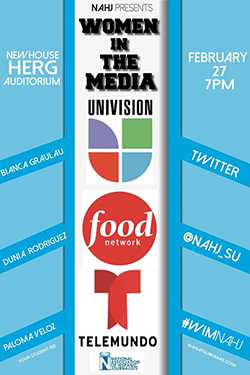 The National Association of Hispanic Journalists  cordially invites you and your friends to our upcoming event: Women in the Media.
We are featuring a panel of three women who work for national organizations in the media industry. Bianca Graulau is a field reporter for Univision in Sacramento, Calif. Paloma Veloz is the producer of Telemundo's morning show in New York City. Dunia Rodriguez produces for Jane Street Entertainment, a NYC-based production company that has worked with various shows on the Food Network.
All three women are Newhouse alumnae.
They will speak about being Latina Women in the media industry, the struggles and advantages they have in their field of work, and how they promote diversity in the work place.
NAHJ hopes to see you in the Herg. Auditorium on Thursday, Feb. 27, at 7 p.m.
Feel free to invite your friends! The event is free and all are welcome.
Website: https://www.facebook.com/SyracuseNAHJ
Contact Person: Chantal Felice, Vice President of The National Association of Hispanic Journalists,
818-326-9603
cmfelice@syr.edu or nahjatsu@gmail.com