Campus & Community
Literary Agent to Speak Monday, Feb. 24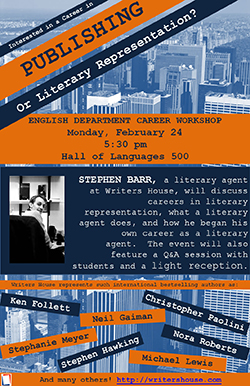 Thinking about a career in publishing or literary representation?
Don't miss a chance to meet Writers House literary agent Stephen Barr at the English Department's Career Workshop:
 Monday, Feb. 24
5:30 p.m.
500 Hall of Languages
Barr will discuss what it's like to be a literary agent, and participate in a Q&A with attending students.
Barr started out as an intern for Writers House in 2008 and has now become a senior literary agent for the prestigious agency. Writers House  represents such international bestsellers as Stephanie Meyer, Neil Gaiman, Christopher Paolini, Nora Roberts and Stephen Hawking.