Campus & Community
Jewish Law Symposium Explores Issue of Privacy and Prying Eyes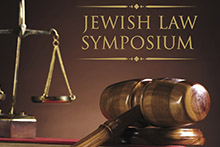 The Jewish Law Students Association, along with Chabad House, present guest lecturer Rabbi Shlomo Yaffe on Monday, March 3. The topic of the discussion is "Privacy and Prying Eyes: Judaism on the Laws of Privacy in the Age of Prying Eyes." Yaffe, who is dean of the Institute for American and Talmudic Law, is considered a world-renowned authority on these issues.
The event takes place at the College of Law, Room 200, at 5:30 p.m.
The symposium will navigate a contemporary topic and offer analysis and debate from both civil law and Talmudic perspectives with unique insight, as well as practical suggestions, for this area of law. Topics include the proactive obligation to avoid impinging on another person's privacy, the right to privacy, acceptable surveillance and considerations for overriding privacy considerations.
For more information on the symposium, contact Megan Roger at mmroger@syr.edu.