Veterans
IVMF, SU Recognized at 'Empowering Our Nation's Warriors' Summit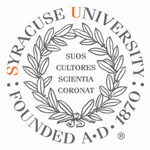 The work of the Institute for Veterans and Military Families (IVMF) and Syracuse University was acknowledged Wednesday, Feb. 19, by President George W. Bush during "Empowering Our Nation's Warriors," a summit focusing on how we can more effectively support transitioning warriors and their families. The summit was held at the George W. Bush Institute at the Bush Center in Dallas.
Jill Biden, Gen. Peter Pace and business and nonprofit leaders were among those in attendance.
In his remarks, President Bush thanked the IVMF for supporting their research and called SU a "fine university." The IVMF and Bush Center have collaborated on a comprehensive study of post-9/11 veterans that will be published in the spring. He noted that SU is "doing great work" with veterans.
President Bush cited GE, JPMorgan Chase, USAA and Wal-Mart, all IVMF funders, as companies that are in the forefront of providing employment opportunities to veterans and their spouses. He also introduced John Raftery, a graduate of SU's Entrepreneurship Bootcamp for Veterans with Disabilities (EBV) and owner of Patriot Contractors in Texas.
President Bush said that Raftery's success "is an important story of how a university's commitment to veterans can facilitate a meaningful and productive transition to military life."
The remarks made by President Bush can be viewed here: http://youtu.be/1P7-1ndMBAw?t=6m20s.