EMC Production Earns NY Emmy Award Nomination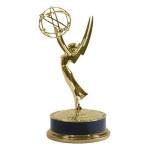 Syracuse University's Electronic Media Communication's production "Education for the World: Photography and Literacy Project" has received an Emmy nomination from the New York chapter of the National Academy of Television Arts and Sciences.
The program focuses on the Photography and Literacy Project (PAL) at Syracuse University led by director Stephen Mahan. PAL is run through the University's Coalition of Museum and Art Centers, in which SU students work with Syracuse School District students to develop multi-media projects. These projects assist in helping to grow the creative mind within high school students, along with building self-esteem and improving writing and critical thinking skills. Mahan feels EMC's PAL documentary has helped increase awareness of the project.
Stu Lisson, executive producer and director of Electronic Media Communications, credits teamwork and PAL's compelling story for the nomination. The program aired on WCNY-TV, which shares a strong relationship with Syracuse University. This February WCNY will also air its production of "Remembering Marty Glickman: A Sportscasting Pioneer," which EMC and the Newhouse Sports Media Center helped facilitate.
Emmy nominations are not rare for EMC. Just last year, the department received a New York Emmy nomination for "The Game of Life," which featured the story of lacrosse and Syracuse University's Haudenosaunee Promise program on the Onondaga Indian Nation. Additionally, the Council for the Advancement and Support of Education (CASE) in Washington, D.C., has honored EMC with 15 Circle of Excellence Awards, including four Gold Circle of Excellence Medals, three consecutively (a national first), and its coveted Grand Gold Award.
For more information on the University's Photography and Literacy Project go to http://supalproject.wordpress.com/