Campus & Community
Career Services Presents Annual Spring Career Fair
Syracuse University Career Services within the Division of Student Affairs will host its annual Spring Career Fair at Goldstein Auditorium in the Schine Student Center on Tuesday, Feb. 11, from 12:30-4:30 p.m.
Representatives from more than 55 organizations will recruit for internships and full-time job opportunities. This year's sponsors include JPMorgan Chase & Co., Macy's/Bloomingdale's, General Electric, Cognizant Technology Solutions and New York Army National Guard.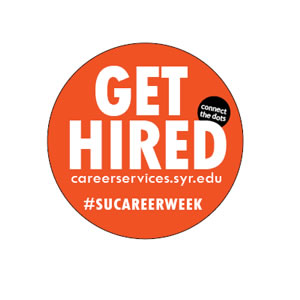 Other organizations participating vary from global companies, such as IBM, PepsiCo and Epic, to those of government systems, including the New York State Department of Transportation and U.S. Postal Service. Positions range among the technology, engineering, business, finance, sales, operations, communications, healthcare and nonprofit industries. The full list of companies and positions available can be found via OrangeLink.
In collaboration with the Office of Multicultural Affairs, Career Services will also host Diversity in the Workplace on Feb. 11 from 6-8 p.m. in Panasci Lounge in Schine Student Center. This event connects students with companies for a networking reception and dialogue break-out session focusing on topics related to diversity. More than 40 company representatives will be in attendance.
"Career Services encourages students to attend these events no matter what stage they are at in their search to make connections for now and for the future. Employers come to campus to meet students face to face," says Susan Casson, associate director of employer relations. "It's important for students to do their homework on the employers coming to campus, make a connection and find out if there is a match for an internship or for the future."
For students looking for assistance before the career fair, Career Services will hold workshops on how to prepare for the career fair from 5:30-6:30 p.m. Feb. 3-6. Students of all majors and years are encouraged to attend a workshop before going to the career fair.
Students can R.S.V.P. in OrangeLink under the "Career Fairs, Workshops & Information Sessions" tab as each session's location varies. For additional preparation, students can go to Resumania, another event coordinated by Career Services, on Feb. 7 from 11 a.m. to 3:30 p.m. for a one-on-one resume critique with employer experts. Companies participating in Resumania include JPMorgan Chase & Co., General Electric, Finish Line and more. Students are seen on a first-come, first-served basis in Career Services, 235 Schine Student Center.
For students interested in careers in the nonprofit, government, military, health care, public service and education industries, Career Services will also host the Nonprofit and Government Career Fair on Friday, Feb. 28, from 11 a.m. to 2 p.m. in Panasci Lounge in the Schine Student Center. Students will have the opportunity to learn about internship and full-time opportunities at this event.
For more information about the Spring Career Fair or associated career events, contact Casson (smcasson@syr.edu, 315-443-3616).