Campus & Community
Can It!: Bring Donations to Feb. 15 Men's Basketball Game
Fans will not only get an opportunity to watch an exciting men's basketball game between the Syracuse Orange and the North Carolina State Wolfpack on Saturday, Feb. 15, in the Carrier Dome. They will also have the chance to help combat hunger in the local community.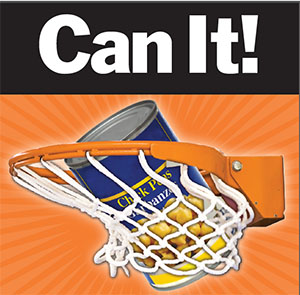 "Can It!" is a University-wide interfaith initiative to collect canned food and monetary donations for the Food Bank of Central New York. The initiative is part of the Better Together: President's Interfaith and Community Service Challenge, in which SU is participating.
Fans attending the 3 p.m. game are encouraged to bring donations of canned goods, which may be deposited in collection receptacles at the gates upon entry. Monetary donations may also be made at the gates or in the back court during the first half of the game and at halftime.
SU students may also donate canned goods in the Hildegarde and J. Myer Schine Student Center on Monday, Feb. 10, and Friday, Feb. 14, from 10 a.m.-4 p.m. Collection receptacles will be available in the Schine Atrium. Canned goods will be available for purchase in the SU Bookstore.
Over the past two years, the initiative has netted 2,596 pounds of food and $5,249.48 in monetary donations, providing 13,725 meals to hungry people in the local community. The food was distributed to 261 emergency food program partners—food pantries, soup kitchens and emergency shelters—in the Food Bank's 11-county service area in Central and Northern New York. Organizers are hoping to set a new record for donations this year.
Items in need include canned tuna, canned vegetables, canned/dried fruits, canned beans/legumes, dried beans/legumes, peanut butter, pasta/rice/grains, cereals, oatmeal and soups/stews.
"Hendricks Chapel and the Office of Engagement Programs are excited to participate in such a great event that benefits the Food Bank of Central New York," says Syeisha Byrd, director of the Office of Engagement Programs at Hendricks Chapel.
"As hunger is a year-round issue, we are thankful to be a partner with SU for the Can It! event," says Kathleen Stress, executive director of the Food Bank of Central New York. "The food and funds raised at the game will go a long way in helping to provide nutritious meals to families in our service area."
For more information on the Can It! food drive or Better Together initiatives on the SU campus, contact Hendricks Chapel at 315-443-2902 or chapel@syr.edu or visit the Better Together Syracuse Facebook page.