Health & Society
Campus Hosts Events Around National Eating Disorders Awareness Week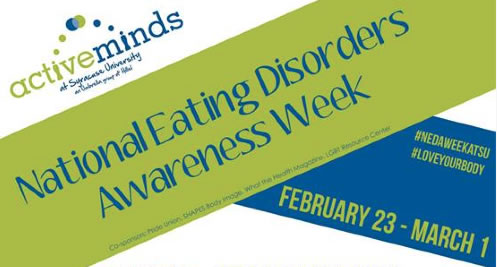 Students, faculty and staff are bringing attention to the epidemic of eating disorders throughout the week of Feb. 23-March 1 on the SU campus as part of National Eating Disorders Awareness Week. The events and activities are organized by the student organization Active Minds and co-sponsored by Pride Union, SHAPES Body Image, What the Health magazine and the LGBT Resource Center.
The week kicked off with a viewing of the play "Reflections at Ophelia's Place," chalking of the Quad with messages that promote positive body image and a panel discussion in Newhouse. The lineup for the rest of the week includes:
Feb. 25: Operation Beautiful and a nutrition presentation by Orange Wrap
Feb. 26: Screening of the documentary "Beauty Mark" by psychotherapist Diane Israel
Feb. 27: Dinner and discussion about body image, eating disorders and disordered eating at Ophelia's Place
Feb. 28: Meditation session with an instructor from the Zen Center of Syracuse, as well as a Q&A on stress and eating hosted by a registered dietitian and a staff therapist from the SU Counseling Center
All week long, What the Health magazine will facilitate a "Love Your Genes" Jean Drive, where students are encouraged to donate their too-small jeans to charity. Donations may be made in the Schine Atrium from 10 a.m.-4 p.m. until Friday. Honors students will receive one hour of civic engagement for each pair they give (read more about this benefit here.)
For more information on National Eating Disorders Awareness Week, visit the Active Minds Facebook page: https://www.facebook.com/syracuseactiveminds/photos/a.303049906378426.95271.281264461890304/819202674763144/?type=1&theater.