Veterans
Blue Star Families Partner with IVMF for Fifth Annual Military Family Lifestyle Survey
Blue Star Families, the largest chapter-based military families support organization in the country, joined forces with the Institute for Veterans and Military Families at Syracuse University (IVMF) for the fifth annual Military Family Lifestyle Survey. This unique and comprehensive survey gathers input from thousands of service members, veterans and families around the world and offers critical insight on the major issues facing military families.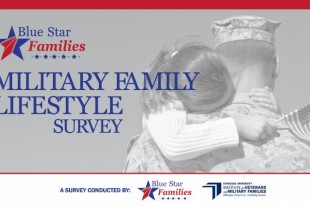 All current and former members of the armed forces and their families are encouraged to complete the survey and contribute their voices to the description of today's military life. The 2014 Military Family Lifestyle Survey is available at http://bluestarfam.org/survey and will be open until March 2014.
The Military Family Lifestyle Survey has historically provided government, military and civilian leadership with key information on the needs of military families, influencing policy recommendations and helping the nation better support miliary families. The survey findings are regularly referenced by civilian and military officials at all levels, including the White House, Joining Forces and national media outlets, such as NPR, FOX News, NBC and CNN.
"Policy makers and those private and nonprofit sector leaders who want to support our military community have asked for and need a nuanced understanding of modern day military service members, veterans and their families so that they may appropriately design programming and craft policies to effectively support them," says Vivian Greentree, director of research and policy for Blue Star Families. "That's what the Blue Star Families Military Family Lifestyle Survey provides. We encourage all military families, service members and veterans to participate and share their experiences and feedback. It's a long survey, we know. But our hope is that our participants will consider it time well used."
"As the war in Afghanistan draws to a close and our nation enters a time of transition, participation in this survey is critically important, as we seek to understand at a deeper level the issues, challenges and opportunities facing the community of veterans and military families," says Mike Haynie, executive director and founder of the Institute for Veterans and Military Families. "This annual survey will support policy makers and the community of organizations supporting veterans and military families as they work to affect, address and advance the issues this community faces during their service, during their transition and during their post-service lives."
In addition to a broad range of multiple choice questions, the Blue Star Families survey also offers participants opportunities to suggest programs or policies, elaborate on certain issues and voice specific concerns through a series of open-ended questions. "Every year we receive thousands of good ideas, heartfelt stories and thought-provoking suggestions that add a critical layer to the survey results and allow us to personalize the military experience for policy makers and leaders," says Greentree.
For this survey, Blue Star Families and the IVMF are honored to have the assistance of the following partner organizations: the American Red Cross, the Armed Forces Services Corp., the Armed Forces YMCA, the Association of the United States Army, Hiring Our Heroes, Iraq and Afghanistan Veterans of America, Military.com, the Military Child Education Coalition, Military Officer's Association of America, Military Partner and Family Coalition, the Military Spouse Corporate Career Network, Military Spouse Magazine, National Military Family Association, Our Military Kids, Points of Light, the Reserve Officers Association, Service Nation, Student Veterans of America, United Service Organizations, and Veterans of Foreign Wars.
The wide distribution of this survey through the partners and others in the military community greatly contributes to the high level of response, and will help this survey reach a comprehensive sample of military personnel and their families, officials say.
The results of the 2014 Military Family Lifestyle Survey will be announced in fall 2014.