Veterans
VISION Law Students Lead Webinar for Military Applicants
Members of the College of Law's Office of Admissions & Financial Aid, along with current second- and third-year law students, recently hosted an interactive webinar for prospective military applicants to the college's J.D. program. More than 20 veterans are currently law students.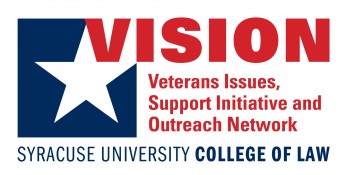 The event comes on the heels of the announcement by U.S. News & World Report, in November, that Syracuse University is ranked #4 for veterans among national universities.
The webinar featured Ret. Col. (Army) David Reardon L'15;  Student Bar Association President and U.S. Marine Corps Second Lt. Josh Keefe L'14; and the director of the college's student-run Veterans Issues and Support Initiatives and Outreach Network (VISION), U.S. Navy Ensign Tom Caruso L'14.
In addition to admissions criteria, financial aid information and success strategies for military applicants, the webinar highlighted those aspects of the college, and the broader University and surrounding communities, that make Syracuse an attractive option for pursuing law school. Prospective students were able to ask real-time questions during the discussion.
Keefe explained the "wide array of academic programs related to military law and national security law" offered at the Institute for National Security and Counterterrorism (INSCT), including research opportunities and graduate studies with a curriculum to study the Law of Armed Conflict, Military Law and Post-Conflict Reconstruction.
Campus services and the University's expansive resources were emphasized by Caruso, who described the Veterans Resource Center and explained the Institute for Veterans and Military Families (IVMF) as "a premier veterans institute for research and training with a focus on entrepreneurship for veterans."
The webinar advances a broader strategic plan by the college that encourages more military services members, veterans and family members to consider Syracuse Law when applying to law school.