Health & Society
Tips for Staying Fit When Snow and Cold Keep You Inside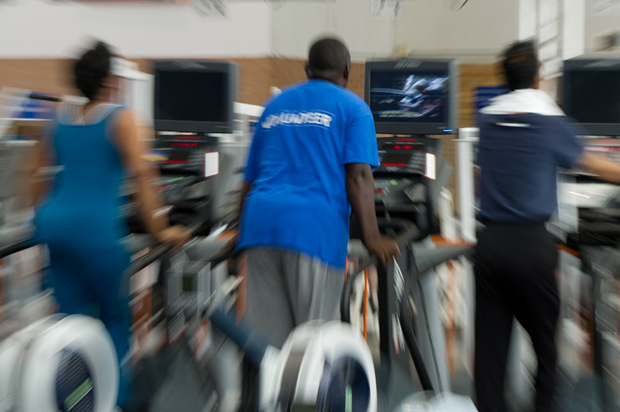 Snow and cold temperatures may make venturing out to the fitness center a chore.
But Eliza Decker, associate director of Recreation Services, says don't let that stop you from getting in your workout wherever you are.
Decker encourages students to find places in their residence halls or off-campus in their apartments to get together with friends and make time for exercise.
Twenty minutes and a little motivation is all you need.
"For instance, the 'Insanity' videos are a great way to get a hall floor moving in the hall lounge," Decker says. "It's not a lot of running around, but a highly motivated cardio-based workout with strength military-style training, with jumping jacks, power jumps and switchkicks. If you can't get to your gym, it's a fun and social workout."
Decker recommends such fitness DVDs for an intense workout that doesn't necessarily need equipment and keeps your cardio level up long after you've stopped exercising.
"You want 20 to 30 minutes a day of intense cardio," Decker says.
Add strength training for more of a benefit and to increase muscle mass.
"That's where you're going to see your results. Even if you worked out at night and you went to bed, your body will still be burning calories," she says.
Decker's other recommendation is to slow it down and focus.
"Another great way to stay in shape is yoga," Decker says. "All you need is a mat."
Residence hall floors often hire yoga instructors to lead residents through a workout.
For something even more basic, try the stairs. "You can do intervals of stair climbing throughout the day," she says.
Decker offers even more tips for finding time and space during the cold-weather months—or any time.
Make your own time.
"Don't be a stickler for your 8 a.m. workout," Decker says. Find the best time for you around your schedule—even if it's late at night.
"They've done studies on the best time of day to work out, but people should go with their own clock," Decker says. "Too many people are not being active and you definitely have to put it in your schedule any time of day."
Keep motivated.
Pick a scheduled fitness class or hire a personal trainer through Recreation Services. "You are setting a schedule for when someone is going to be pushing you and it's on your calendar," Decker says. "It's back to that goal-setting. If you don't have any plan, you won't have anything to stick to."
She also recommends committing to work out with a buddy to keep the encouragement going both ways.
Without a workout partner, make sure to bring your music—Decker prefers Lady Gaga and Pink. "They are very motivating," she says.
Music keeps your mind off everyday matters. "Your workout is for you. It's what you need to release toxins," Decker says. "If you are constantly stressing, you're not getting the benefit."
In the end, it's about how you feel about yourself that will keep you motivated. "When you start feeling good and healthy, and you have more energy and your clothes are fitting well, that's a motivation," Decker says.
Embrace the weather.
"There are definitely people who love winter and those who hate it," Decker says. To head off the winter doldrums, find a reason to get outdoors, even with limited Syracuse sun.
The Outdoor Education Program in Recreation Services runs winter trips and outings. "They have a Lake Placid day trip in February, moonlight snowshoeing and hiking, snowtubing and a six-week snow and skiboard program," Decker says. "You can get your whole floor involved."
Stay active—and eat healthy.
Without the right nutrition, all your good exercise habits are wasted.
Decker recommends a consultation with the Health Services registered dietitian, whose services are free to students. "You need to have a balance of healthy eating and exercise," Decker says.