Media, Law & Policy
Syracuse University Professor Making News Worldwide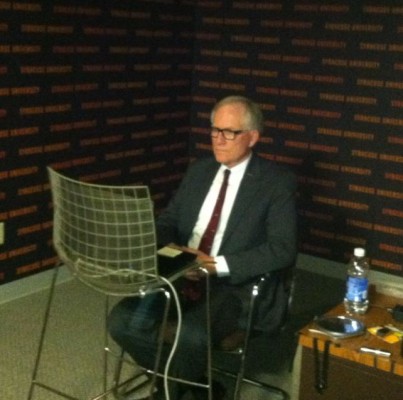 In the eyes of the media, David Crane L'80 is a wanted man. The College of Law Professor of Practice and member of the Institute for National Security and Counterterrorism spent much of the day on Tuesday in a small TV studio located in Newhouse. From there, he spoke to reporters around the world.
Professor Crane co-authored a report that detailed the "systematic killing" of thousands of people in Syria, suggesting war crimes were committed by Syrian government officials. CNN and The Guardian broke the story, and now, media worldwide are seeking comment from Crane. Sky News, CBC and the BBC lined up awaiting a chance to speak with Crane via Satellite.
"It's important for the world to understand what a nation can do to its citizens," Crane says. "When a place such as Syracuse University has all the world's attention, it's an opportunity for people to gain an understanding of something as important as the Rule of Law, International Humanitarian Law and facing down the beast of impunity."
Crane released the report along with two other international lawyers. Sir Desmond de Silva QC was a prosecutor of the special court for Sierra Leone. Sir Geoffrey Nice QC was the lead prosecutor of former Yugoslavian president Slobodan Milosevic. Professor Crane was responsible for prosecuting crimes against humanity and other serious violations of international human rights committed during the civil war in Sierra Leone during the 1990s.
The report was commissioned by the government of Qatar, but Crane found himself as the leading spokesperson. In one afternoon, he completed interviews with Sky News, CBC, the BBC, Al Jazeera, NPR, the New York Times and the Wall Street Journal. That was before taking a break at 5 p.m. to teach class.
Crane will take the evidence that he and his colleagues have been given (which includes photographs) and hand it over to the student-run Syrian Accountability Project, which is gathering evidence of Rule of Law and Humanitarian Law violations to be used in potential indictments for those most accountable for crimes against humanity during the Syrian Civil War.
For more information, visit http://www.iamsyria.org/syrian-accountability-project.html.