Arts & Culture
Sustainability Book Discussion Series Begins Feb. 7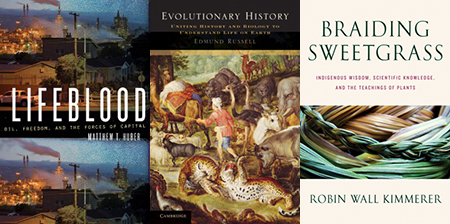 The Office of Sustainability Initiatives will sponsor a Sustainability Book Discussion Series this semester, offering members of the University community opportunities to learn about and discuss important new books with sustainability themes.  
All events will take place in Bird Library, Room 123, on Fridays at 1 p.m. Space is limited; those planning to attend are asked to R.S.V.P. to Rachel May at sumay@syr.edu.
Each book is available in Bird Library, and attendees are encouraged to look at them in advance of the sessions. The sessions and the books are:
Feb. 7: "Lifeblood: Oil, Freedom, and the Forces of Capital" by Matt Huber (University of Minnesota Press, 2013)
Huber is an assistant professor of geography in SU's Maxwell School of Citizenship and Public Affairs. He will be on hand to lead a discussion of the role of oil consumption in American popular culture and political history.
March 21: "Evolutionary History: Uniting History and Biology to Understand Life on Earth," by Edmund Russell (Cambridge University Press, 2011)
This discussion will be led by Robert Wilson, associate professor of geography in the Maxwell School and an environmental historian, and David Althoff, assistant professor of biology in The College of Arts and Sciences. The book investigates the ways human behavior over time has led to changes in other species and whole ecosystems. It is a pioneering foray into scholarship that bridges the humanities and natural sciences.
April 11: "Braiding Sweetgrass: Indigenous Wisdom, Scientific Knowledge and the Teachings of Plants," by Robin Kimmerer (Milkweed Editions, 2013)
Author Kimmerer will lead the discussion. She is a professor of biology at the SUNY College of Environmental Science and Forestry and director of the Center for Native Peoples and the Environment. An expert on the interactions between "traditional" and "scientific" ecological knowledge, Kimmerer is also an award-winning writer and a storyteller.