SU Librarians Author Most Downloaded 2013 Article in Science & Technology Libraries
An article by three SU librarians was the most widely read article in Science & Technology Libraries for 2013, according to Tony Stankus, editor in chief of the London-based journal.
The article "Introduction to Altmetrics for Science, Technology, Engineering and Mathematics (STEM) Librarians" was written by SU librarians Linda Galloway, Janet Pease and Anne Rauh.
Subscribers to the journal, which is the oldest and most cited in its field, number several hundred science librarians from hundreds of universities and research centers based in more than 50 countries.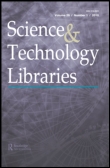 Stankus commended Syracuse University Libraries, saying, "Syracuse means to attract and retain the kind of talent that generates new knowledge for the professions, and it clearly did so here."
According to the authors, altmetrics are the tools that help track a scholar's influence and relevance beyond traditional article citation metrics. Altmetrics can take the form of article views, downloads, or saves, tweets and other social media mentions, analysis and review, or other indicators. They provide immediate feedback because they rely on real-time data and interactions and can be quantified quickly. The importance of employing new measures is evident as scholars begin to communicate more frequently and meaningfully via social media outlets.
For more information on applying altmetrics, contact one of the authors (galloway@syr.edu, jlpease@syr.edu or aerauh@syr.edu) or any subject specialist librarian.