Campus & Community
Orange Goes Red for Heart Association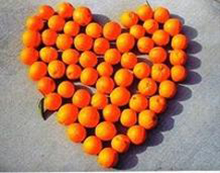 All staff members are invited to participate in a winter wellness and fundraising opportunity leading up to the Heart Walk on March 22.
This year, the American Heart Association (AHA) is celebrating the 30th anniversary of the Syracuse Heart Walk. SU employees who sign up for the Heart Walk and join Recreation Services' winter wellness program, "Fifty Days of Fitness," will receive a free pedometer and the chance to earn incentive prizes for distance logged, as well as funds raised.
Syracuse University will also recognize the American Heart Association's efforts and raise awareness about wellness by lighting up the Hall of Languages in red on the night of Feb. 7, National Wear Red Day.
Staff members can take their first steps to join the Heart Walk and wellness program in any of the following ways:
Commit to walking at the Heart Walk as an individual or as part of a team. Register on the Syracuse University Heart Walk web page. Each staff member who raises $100 receives a free T-shirt from the American Heart Association.
Pick up a free pedometer from the following locations: the Office of Recreation Services at Archbold, Human Resources at Skytop or the SU Bookstore at Schine Student Center.
Start moving! Log your progress weekly from Feb. 1-March 22 on the "Fifty Days of Fitness" website. Earn points for distance logged, funds raised and team participation. Achievements will be awarded with trophies and celebrated at the Heart Walk.
Boost your fundraising. Commit to selling paper hearts and "Go Red" pins in your department or building during February to support the University's Heart Walk fundraising goals. Contact the SU AHA campus representative to obtain free supplies.
Visit the University's Recreation Services, Wellness and Healthy Monday websites to take advantage of exercise and fitness opportunities to help you achieve your 2014 health and wellness goals.
Visit the SU Bookstore's American Heart Association display and learn more about the association's multifaceted national outreach to overhaul the nation's wellness.
When you commit to the "Fifty Days of Fitness" program and the Heart Walk, you join more than a million people in more than 300 cities across America who are getting fit and taking a stand against heart disease. Cardiovascular disease is the number one killer of all Americans, and heart disease kills more people than all forms of cancer combined.
The funds you raise in the Heart Walk will support projects like these:
Putting up-to-the-minute research into doctors' hands so they can better prevent and treat heart disease among patients.
Groundbreaking pediatric heart and stroke research. About 36,000 babies are born with heart defects each year—research is the key to saving babies' lives.
Getting life-saving information to those who need it most—information that can save a life, like how to eat better, how to recognize the warning signs of heart attack and how to talk to a doctor about critical health choices.
National Wear Red Day
According to information issued by the National Wear Red Day campaign, heart disease is by far the number one killer of women, and kills more women than men. That is why the first Friday in February—Feb. 7 this year—has been designated as Wear Red day, to raise awareness of heart disease and its effects on women. On that day, everyone is encouraged to wear red to show their support for finding a cure for heart disease.