Campus & Community
Kimberly Blackwell '92, Reinaldo Pascual '85 to Chair CBT 2014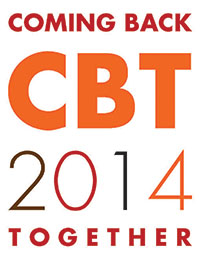 Brand strategist Kimberly Blackwell '92 and corporate attorney Reinaldo Pascual '85 will lend their time and talents as co-chairs of Coming Back Together (CBT) 2014. The triennial reunion for SU African American and Latino alumni, a unique combination of social events, workshops, mentoring opportunities and panel discussions designed specifically to engage SU's African American and Latino alumni communities, will be held on campus Sept. 18-21. More information on CBT can be found at http://www.comingbacktogethersyr.org/.
Blackwell and Pascual are busy planning a reunion that will be "the best one yet," reaching out to their core constituencies for ideas and involvement.
Blackwell is the founder and CEO of PMM Agency, an Ohio-based brand strategies firm that provides creative services, marketing, PR/media relations, reputation management, event production, interactive and new media, communications and agent representation services to a clientele ranging from Fortune 500 companies to professional athletes. In 2013, PMM was named the Minority Business Enterprise of the Year by the Ohio Minority Supplier Development Council and Blackwell was recognized as one of Network Journal's "25 Influential Black Women in Business." This year, she was featured in Black Enterprise as one of the country's "Top Executives in Marketing & Advertising," and presented with a global award as one of the "2014 Enterprising Women of the Year."
Pascual is a partner in the global law firm Paul Hastings LLP, based in Atlanta. Pascual practices corporate law with a focus on mergers and acquisitions, corporate finance and securities, private equity and investment management, representing companies, investment banking and private equity firms, and venture capital investors in private and public offerings, mergers and acquisitions, and investment transactions. He has earned numerous accolades such as "leading lawyer," "super lawyer," and "Who's Who," and was honored during CBT 6 with the SU Chancellor's Citation for Distinguished Achievement in Law in 2002. Pascual has been an SU trustee since 2011 and served on the search committee for the new Chancellor.
"Both Kim and Rey are dynamic individuals who are extremely successful in their fields and very generous with their time and talents to the University," says Larry Martin, vice president of the Office of Program Development. "The creativity and energy they bring to this event will not go without notice."
Blackwell says CBT offers a special opportunity for alumni to reconnect with college friends, celebrate their heritage and share their success with the next generation.
"I look forward to gathering again with some of our nation's best and brightest minds, as professionals and servant-leaders, in a place we once affectionately called a home away from home," Blackwell says. "When we look through our rich history and actually see the individuals who inspired generations to consider Syracuse University back again on campus, it's well worth the time and travels for purposeful networking and empowerment."
In addition to fun, reconnection and networking, it's also about giving back. "To whom much is given, much is required," she says. "We owe it to students, today and tomorrow, to pay it forward, and lead by example, as others made the commitment and created opportunity so that we might thrive at Syracuse."
"Part of what people enjoy the most about being involved with the University is giving back to the younger folks," adds Pascual, who says the reunion will provide plenty of venues for alumni to interact with current students. "That's the most valuable thing we can do—provide opportunities and serve as role models for our soon-to-be alumni." He says there will also be an opportunity for alumni to meet new Chancellor Kent Syverud.
Pascual is personally committed to increasing the involvement of Latino alumni at CBT, specifically to serve as role models and mentors for today's Latino students. "Sept. 15-Oct. 15 is Latino Heritage Month and I would like to see us making a meaningful contribution at Syracuse," he says.
While the programming specifics for CBT 2014 are still in the works, Blackwell and Pascual agree on one thing: "This one will be the best reunion yet!"