ESPN Baseball Experts to Speak at Newhouse Jan. 31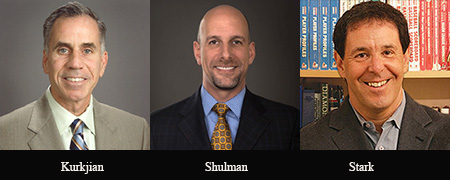 Top ESPN baseball personalities Jayson Stark '73, Tim Kurkjian and Dan Shulman will visit the Newhouse School on Friday, Jan. 31, as guests of the Newhouse Sports Media Center. They will discuss their careers in sports broadcasting at 2 p.m. in the Joyce Hergenhan Auditorium in Newhouse 3. The event is free and open to the public. Follow on Twitter at #NewhouseSports.
Stark is a senior writer for ESPN and previously spent 21 years with the Philadelphia Inquirer. He is the author of "The Stark Truth: The Most Overrated and Underrated Players in Baseball History" and "Worth the Wait: Tales of the 2008 Phillies."
Kurkjian is a reporter and analyst for ESPN.com and ESPN's "Baseball Tonight," and has covered baseball since 1981. He was previously a senior writer for Sports Illustrated and a reporter for CNN-SI.
Shulman is an ESPN play-by-play commentator for Major League Baseball and NCAA Men's College Basketball telecasts, and has served as the voice of ESPN's "Sunday Night Baseball" since 2011.
For more information about the event, contact John Nicholson at 315-443-4065 or jsnich01@syr.edu.