Arts & Culture
CollegeHumor to Create Laughs at SU Feb. 19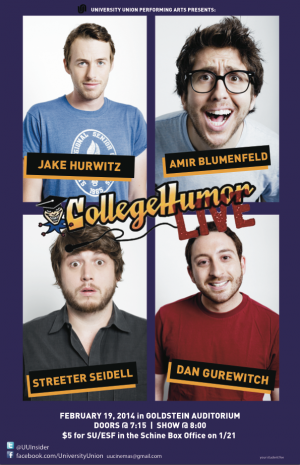 University Union Performing Arts presents "CollegeHumor Live" on Feb. 19 in Goldstein Auditorium. Doors open at 7:15 p.m. with the show starting at 8 p.m.
Created in 1999, CollegeHumor is a comedy website that features original videos and articles targeted to a young-adult audience. The comedy show will feature stand-up acts from CollegeHumor comedians Jake Hurwitz, Amir Blumenfeld, Streeter Seidell and Syracuse University alumnus Dan Gurewitch.
Hurwitz and Blumenfeld are known for their popular web series "Jake & Amir," which was picked up by TBS for television production in December. Seidell and Gurewitch gained popularity through the "Hardly Working" series, which was featured on MTV's "The CollegeHumor Show."
Tickets for "CollegeHumor Live" are on sale at the Schine Student Center Box Office. Ticket sales are open to all SU and SUNY/ESF students, faculty and staff for $5.
For more information, contact Mitchell Mason, director of public relations for University Union, at press.uu@gmail.com. For the latest updates on all University Union events, follow its social media accounts on Twitter, https://www.twitter.com/uuinsider, and Facebook, http://www.facebook.com/universityunion.