Campus & Community
Chancellor Syverud Connects with Campus Community on His First Day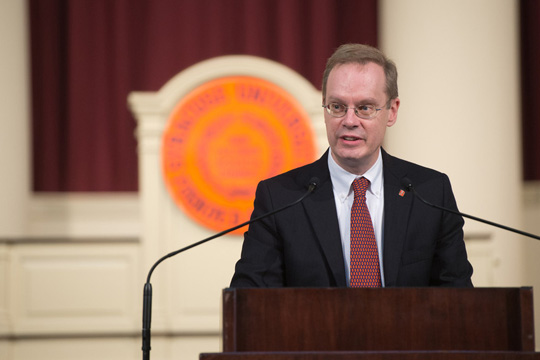 Chancellor Kent Syverud's first day will be a busy one.
The semester's first day of classes marks the official start of Chancellor Syverud's tenure as Syracuse University's 12th Chancellor and President. It's a day filled with meetings and gatherings with students, faculty and staff.
Chancellor Syverud will begin his day attending several meetings with his senior leadership team and other staff. He, along with his wife, Dr. Ruth Chen, will then join student orientation leaders who have just completed Winter Welcome for new students at Schine Dining for lunch. Dr. Chen is a professor in the L.C. Smith College of Engineering and Computer Science.
After lunch, Chancellor Syverud and Dr. Chen will visit with students and staff at the Office of Multicultural Affairs in the Schine Student Center during the office's open house for new and transfer students. They will then meet with peer advisors, peer mentors and staff members during a tour of the Slutzker Center for International Services.
Later in the day, Chancellor Syverud and Dr. Chen will tour and meet with SU student entrepreneurs at the Student Sandbox business incubator at the Syracuse Tech Garden, located in downtown Syracuse. Finally, they will attend a reception with the University's newest faculty members.
In a message to campus today, Chancellor Syverud wrote, "The best part of joining a university is getting to know the students, faculty, staff and alumni. … During this time, I plan to listen and learn, with a focus on how we can be a great university that provides the best possible education to our students."
Chancellor Syverud has a new website where he will regularly update the campus community through short notes about the people he has met, the places he has visited and what he has learned. Visit http://chancellor.syr.edu for more information.