Business & Economy
Top Ten Gift Ideas Among the Most Popular at the University Bookstore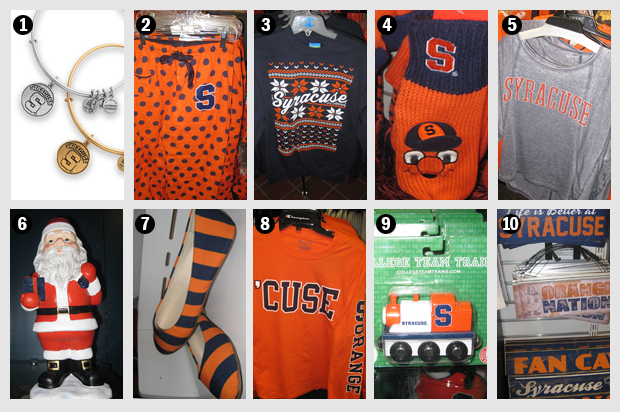 Whether you need to pick up some last-minute holiday gifts or you're just making out your list, the University Bookstore has some unique finds for the SU fan in your life.
Gale Youmell, divisional merchandise manager at the Syracuse University Bookstore, shares some trending items among shoppers.
Wear it with pride and style. A new addition to the bookstore's jewelry collection, Alex and Ani's expandable wire bangle bracelets in Russian silver or gold show off your school with a signature look.
Who doesn't love a polka dot? A collection of soft, comfy polka dot pajamas and other items are perfect for a snowy winter night.
A fun sweatshirt, or is it a sweater? It's the perfect remedy for the typical "ugly holiday sweater"—a sweatshirt with the look of a decked-out holiday knitted pattern.
Stay warm. Bundle up your loved ones with fleece and knitted hats, scarves and mittens—all orange and many with Otto.
Keep it cool. The ladies' "inferno" three-quarter-length sleeve shirt represents SU with a trendy style.
Here comes Santa. Sporting a Syracuse-branded hat and satchel, Kris Kringle knows how to bring it.
A little flat, but never dull. These cute and sassy slip-ons are perfect for every day and any SU lady.
A Syracuse staple. All-purpose and the go-to item for any SU fan, the crewneck sweatshirt is definitely the "in" style this year, Youmell says.
All aboard. For the young and young at heart who want to add to their sets, this SU college team train will hook to compatible train sets.
Interior design. Lighten up the mood in any room and prepare for game day with signage to show your spirit.
Bonus gift idea. It's only seven weeks away—"Beat Duke." Prepare now. These shirts are unique through the University Bookstore with both the SU and Duke University logos.