Campus & Community
Students Organize Initiatives for Typhoon Haiyan Relief
On Nov. 8, Typhoon Haiyan, one of the strongest storms ever recorded, slammed into portions of Southeast Asia, hitting the Philippines particularly hard. The storm left unbelievable devastation in its wake. More than 5,600 deaths have been officially recorded, and more than 14 million people displaced.
The emotional impact of the destruction has hit close to home for members of the Syracuse University community who have close ties to the Philippines. An organic movement, called SUnited, has been started by SU's Filipino Student Association and other students from across the SU campus with a goal to raise $5,000 for typhoon relief efforts in the region. Visit http://www.indiegogo.com/projects/sunited to make a contribution.
Proceeds will benefit the Aboitiz Foundation, which is created by the Aboitiz Corp. This company, based in Cebu City, Philippines, was directly hit by Typhoon Haiyan, a reason why proceeds are needed and trusted.
"They know the damage, they connect with the victims and they know the best approach to help," says Bea Tiu-Laurel, a freshman in The College of Arts and Sciences and president of the Filipino Student Association. More information can be found at http://aboitizfoundation.org/AF/index.php.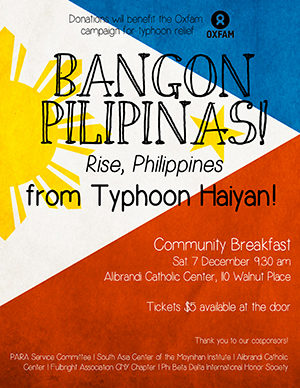 A second student-initiated campaign, Bangon Pilipinas (Rise Philippines), is also active on the SU campus to raise funds and awareness. A community breakfast will be held on Saturday, Dec. 7, at 9:30 a.m. at the Alibrandi Catholic Center, 110 Walnut Place. Tickets are $5 per person and are available at the door. Proceeds will benefit Oxfam's typhoon relief efforts.
A benefit concert will be held Jan. 17 in Hendricks Chapel.
SUnited has tabled in the Hildegarde and J. Myer Schine Student Center and Link Hall and taken to Facebook to raise awareness of the issue and to encourage donations.
"SUnited is not an opportunity for only the Filipino students to help their home, but it is an initiative that encourages people of all backgrounds and diversities, ages and interests to help their global brothers and sisters," says Tiu-Laurel.
Tony Kershaw '10, G'13, assistant director with the IDEA office on campus, was born in the Philippines and has an extended network of family there.  He reached out to the Filipino Student Association on Facebook only to learn that a grassroots fundraising effort had already been started. "Even though we are so far away, this hits close to home," he says. "It was great to see that students were already taking action. Our office supports them however we can."
The storm has decimated a region that is poor and where its people are struggling to survive.
Louise Domingo, a junior in the L.C. Smith College of Engineering and Computer Science, was born in raised in Bulacan, Philippines, a small province about three hours from the capital, Manila. The majority of Filipinos live on less than $1 a day, she says. "I knew what it was like to have nothing, to not be able to have a meal to eat," she says.
Domingo and her family moved to the United States when she was 10. The eldest of nine children, she is now a first-generation college student. She is majoring in civil engineering with the intent to go back and help build safe, sound infrastructure in her homeland.
"The Philippines has about 20 typhoons a year, each time affecting the sewage, transportation and structural system of the nation," says Domingo. "Each time a massive wave of storm hits, our country of 1,107 islands is devastated in one way or another. It's already difficult enough to get from one island to another, to even find a job, get out of poverty, let alone to build stable infrastructure. That's what I want to do in the future."
For now, Domingo is doing what she can to raise money and awareness for relief efforts. "There are many Filipinos out there who still don't have any help or aid in this devastation. That's why it is so important for the SU community to even be aware of the issue there and to help take action," she says.
"As of now, we are truly just a group of students expanding our reach and growing in our efforts, and next semester we will be organizing a lot more events and efforts to fundraise and to inform others about this cause," Domingo says.