Campus & Community
SU Celebrates Native Heritage Month Nov. 2-Dec. 1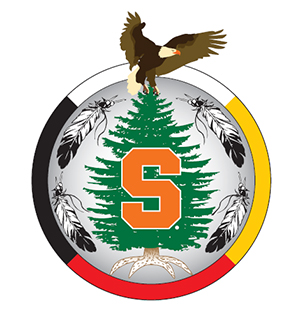 The Office of Multicultural Affairs within the Division of Student Affairs hosts Native Heritage Month from Nov. 2-Dec. 1. With film screenings, lectures, performances and more, Native Heritage Month offers an array of cultural festivities that educate and celebrate the continued existence of Native people, sharing with others their unique way of being in this world. This year's theme is wampum and peace.
Native Heritage Month started at the turn of the century as an effort to gain a day of recognition for the significant contributions the first Americans made to the establishment and growth of the United States, and has resulted in a whole month being designated for that purpose. This year marks the 400th anniversary of the Two Row Wampum agreement between European settlers and the Haudenosaunee. The agreement signifies that they will live together side by side in peace, friendship and respect. Native scholars and artists share in the events with a common message of peace and prevalence.
Some of the month's highlights include a book signing and lecture by SUNY ESF Professor Robin Kimmerer on Nov. 7 from 5-7 p.m. at the Peter Graham Scholarly Commons in Bird Library, where she will discuss her book "Braiding Sweetgrass." On Nov. 10, the world premiere concert opera "Purchase of Manhattan" will be held in Hendricks Chapel at 4 p.m. Tickets are available at http://societyfornewmusic.org for $15 general admission, $12 for seniors and students, $5 for children (under 12) and $30 for family. A Tribe Called Red, a native and aboriginal musical group, will perform on Nov. 15 from 8-10 p.m. at the Skybarn on South Campus.
One of the most anticipated events is the 10th Annual Haudenosaunee Conference on Nov. 16 from 8 a.m-4:30 p.m. in the Goldstein Student Center on South Campus. The conference is sponsored by the Center for Indigenous Law, Governance and Citizenship in the College of Law. The registration fee is $50 and attendees can register at http://www.law.syr.edu/idigenous.
The conference kicks off with a welcome reception on Nov. 15 from 5-7 p.m. at the Goldstein Student Center on South Campus. The event will feature a film screening and discussion by SU student Terry Jones '15, who is a member of the Seneca Nation Wolf Clan.
Campus and community members are encouraged to participate in the planned events of the month. A printed calendar of events is available at OMA, 105 Schine Student Center, and available online at http://multicultural.syr.edu/_documents/nhmcal.pdf.
For more information, contact Regina Jones at rajones@syr.edu or 315-443-0258.
Native Heritage Month is one of four heritage months that the Office of Multicultural Affairs coordinates programs for on campus. Latino Heritage Month was celebrated Sept. 15-Oct. 15. Upcoming heritage months include Black History Month (February) and Asian Pacific American Heritage Month (nationally in May, but celebrated at SU in April to include students).