Campus & Community
Students Invited to Answer the Question: Who Are You?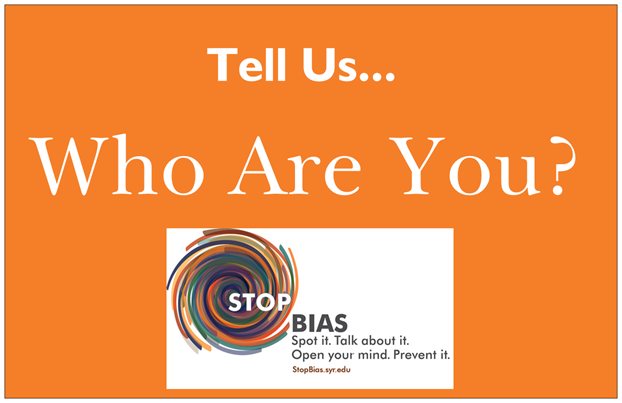 The STOP Bias initiative out of the Division of Student Affairs is hosting the second annual "Who Are You?" Postcard Project. The program invites students to submit anonymous statements that answer the question, "Who are you?" A display of these student expressions will be made available for public viewing in the Panasci Lounge of the Schine Student Center in April 2014.
The Postcard Project allows for students to define for themselves who they are as a way to bring to life the University's community of diverse scholars, as well as emphasize the beauty of an inclusive campus.
Students and staff involved with the STOP Bias initiative will be tabling in the Schine and Goldstein Student Centers on the following days, so students can participate in the project by filling out a postcard.
Goldstein Student Center on South Campus: Nov. 17 from 5-9 p.m.
Schine Student Center: Nov. 19-21 from 11 a.m.-2 p.m.
Students can also fill out a form through the orgsync online at https://orgsync.com/10755/forms/62457 or email stopbias@syr.edu to ask about alternative methods to submit statements.
The STOP Bias initiative was created to provide the SU community with resources to help those who have been impacted by bias incidents on and around campus. The website, StopBias.syr.edu, includes information on how to identify bias, and ways in which community members can get involved with others and create a safe and welcoming environment for everyone.
The "STOP" in "STOP Bias" reflects the important steps in eliminating acts of bias in the community: "Spot it. Talk about it. Open your mind. Prevent it."
A key feature of the STOP Bias website is an anonymous web-based reporting tool that can be used by SU students, faculty and staff who have experienced or witnessed an act of bias. The tool collects information from the incident and offers the reporting person an opportunity to be contacted for further support, if they wish. To access the reporting tool, go to: https://publicdocs.maxient.com/incidentreport.php?SyracuseUnivBRI.
For more information on the "Who Are You" Postcard Project, contact Radell Roberts at stopbias@syr.edu
Enjoy a slideshow of some of last year's postcards: