Campus & Community
Students Across Campus Build Rube Goldberg Machine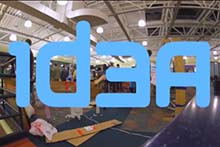 On Oct. 25, the LivingSU team captured the "IDEA Machine" event in Marshall Square Mall that invited SU students to build the biggest Rube Goldberg machine at SU. There were a total of nine teams, and 13 different challenges to pick and solve.
Students who participated in the event represented a broad intersection of schools and colleges, bringing a diverse set of skills and talents. With a combination of limited resources and time, the students attempted to create a Rube Goldberg machine.
See what they created.
Prior to the IDEA Machine build, Keish Kim '16 stopped by one of the four machine meetings that prepped students for the big day and blogged about it here.
To learn more about IDEA visit http://idea.syr.edu.