Arts & Culture
Setnor Faculty Trio to Present Recital Nov. 17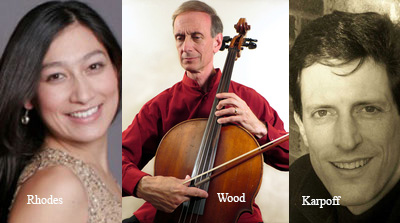 Three faculty members in the College of Visual and Performing Arts' (VPA) Rose, Jules R. and Stanford S. Setnor School of Music will present a recital on Sunday, Nov. 17, at 8 p.m. in the Rose and Jules R. Setnor Auditorium, Crouse College. Harumi Rhodes, violin; Gregory Wood, cello; and Fred Karpoff, piano, will perform works by Ernst Bacon, Franz Schubert and Sergei Rachmaninoff.
The recital is free and open to the public. Free and accessible parking is available in the Q-1 lot; additional parking is available in the Irving Garage. Campus parking availability is subject to change; call 315-443-2191 for current information.
Acclaimed by the New York Times as a "deeply expressive violinist," Rhodes is gaining broad recognition as a multifaceted musician with a distinctive and sincere musical voice. Her generosity of spirit on stage is contagious, making her one of the most sought-after violinists and chamber musicians of her generation. She is a founding member of the Naumburg Award–winning ensemble Trio Cavatina.
In addition to teaching at the Setnor School, Wood is cellist with Symphoria: Central New York's professional orchestra, and an active recitalist in the CNY area. He recently performed with the Trans-Siberian Orchestra in Syracuse and in New York City for an appearance on "Good Morning America."
Karpoff has performed as both soloist and collaborative pianist on four continents, including prominent venues in Germany, France, Luxembourg, Belgium, Ghana, Zimbabwe, Ireland, Finland, Italy, China and the United States. As guest artist at major music festivals in the U.S. and Europe, he has collaborated with many of America's foremost musicians.
Learn more about the three artists at http://vpa.syr.edu/music/faculty-staff.