Media, Law & Policy
Maxwell Students Organize to Aid Typhoon Survivors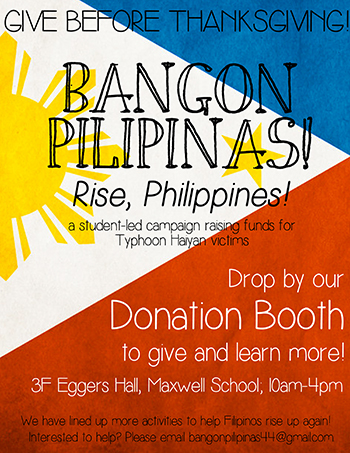 Two weeks ago, super Typhoon Haiyan, called the most powerful storm to make landfall in recorded history, severely battered the central Philippines with never-before-seen torrential winds and storm surges. Its effects have been described as catastrophic.
A group of students from the public administration and international affairs department in the Maxwell School is looking to help. While the outpouring of sympathies and aid from the global community has been enormous, the United Nations states that it has yet to catch up to at least 2.5 million people in need of food, water, shelter and sanitation.
The group has put up a donation booth on the third floor of Eggers Hall, right outside the cafeteria, from 10 a.m.-4 p.m. until Friday, Nov. 22. This is the first of a series of activities it has lined up to raise funds to help relief efforts. Interested volunteers may email bangonpilipinas44@gmail.com.