Arts & Culture
DesignIntelligence Ranks VPA Design Programs among Top 10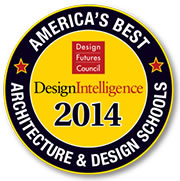 Two undergraduate programs in the College of Visual and Performing Arts' (VPA) Department of Design have been ranked among the top 10 in the nation in the 2014 DesignIntelligence report "America's Best Architecture & Design Schools." DesignIntelligence is the Design Futures Council's bimonthly report on the future, delivering original research, insightful commentary and instructive best practices.
VPA's industrial and interaction design program was ranked No. 3 in the nation for undergraduate industrial design programs and No. 1 in the east region. The college's environmental and interior design program was ranked No. 8 in the nation for undergraduate interior design programs and No. 5 in the east region. The east region encompasses Connecticut, Delaware, Washington, D.C., Maine, Massachusetts, New Hampshire, New Jersey, New York, Pennsylvania, Rhode Island and Vermont.
"This ranking is a very welcome external validation for what we know to be excellent programs with dedicated and innovative faculty, and it reaffirms the programs as being leaders in their respective sectors," says James Fathers, the department's Iris Magidson Endowed Chair of Design Leadership. "The design department is entering an exciting phase of development; next fall we are launching an M.F.A. in collaborative design, which will partner with a range of organizations, including the Aging Studies Institute on campus. This initiative will provide a much-needed focus and impetus for the many exciting collaborative initiatives between design and the cutting-edge research at Syracuse University."
The industrial and interaction design faculty includes Fathers; Denise Heckman, Kathleen Brandt, Don Carr, Jonathan Mills and John Truex. The environmental and interior design faculty includes Sarah Redmore, program coordinator; Dennis Earle; Jennifer Hamilton; Lucinda Havenhand; Zeke Leonard; and Ruth Westervelt.
The DesignIntelligence study ranks undergraduate and graduate programs from the perspective of leading practitioners. Selected professional practice leaders with direct experience hiring and supervising the performance of recent architecture and design graduates are invited to participate in the research. Survey participants, who are drawn from a database of leading firms throughout the United States, were asked the question, "In your firm's hiring experience in the past five years, which of the following schools are best preparing students for success in the profession?" They were queried about such additional issues as how programs rate in teaching various skills.
The Design Futures Council is an interdisciplinary network of design, product and construction leaders exploring global trends, challenges and opportunities to advance innovation and shape the future of the industry and environment. Members include leading architecture and design firms, dynamic manufacturers, service providers and forward-thinking AEC firms of all sizes that take an active interest in their future.