Arts & Culture
Brian Friel Tackles British/Irish Conflict in 'Translations'
In "Translations," a group of students at a hedge school in 1833 Ireland are greeted by two British Army engineers who intend to map their town and change its place names from Gaelic to English. What ensue are the trials and tribulations of people living with a language barrier that quietly outlines a division between two very different cultures. "Translations" explores deeply rooted political and cultural issues about the imposition of the British on the Irish and what it means to preserve culture.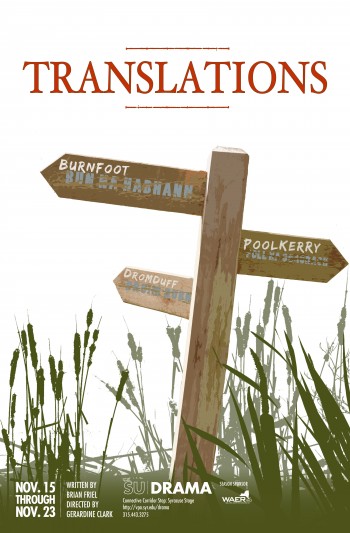 "Translations" will run Nov. 15-23 in the Storch Theater at the Syracuse Stage/SU Drama Complex. Tickets can be purchased online at http://vpa.syr.edu/drama, by phone at 315-443-3275 and in person at the SU Drama Box Office, 820 E. Genesee St.
"Translations" is set in a hedge school: a secret educational institution originally created as a place to teach Catholic values when Anglo Protestants prohibited Catholic education in Ireland. This concept dated back to the 1690s. By 1833, when this play takes place, these schools were far less secretive, as Ireland progressed toward educational freedom. Friel uses the hedge school for "Translations" as a reminder of the constant shadow of British influence on the Irish.
When the community in "Translations" becomes divided by language, questions of cultural identity and moments of humor ensue. This includes a love story between one of the army engineers and a local resident where neither can declare their love for each other because one speaks Gaelic and the other English.  They know they're in love, but they have no way to articulate it.
Written in 1980 by the man known as the "Irish Chekhov," "Translations" was originally produced in Ireland at the Field Day Theater Company, founded by playwright Brian Friel and actor Stephen Rea, who starred in the production.
Friel is known for his "Chekhovian style," as he uses few strong words to illustrate large societal implications, and creates moments of sadness that are not just sorrowful, but entertaining. His most famous works besides "Translations" include "Philadelphia," "Here I Come!," "Faith Healer" and "Dancing at Lughnasa," which won three Tony Awards, including "Best Play" in the early 1990s.
"Translations" premiered in the United States in 1981 at the Manhattan Theater Club and made a brief appearance on Broadway in 1995, featuring actor Brian Dennehy. In 2007 it was revived at the Biltmore Theater in New York City.
Gerardine Clark, director of the SU Drama production, explains the complexity of "Translations," a play that Friel has said is essentially about language.
"All our emotions are tied very strongly to our first language," says Clark. In tackling the Irish/English conflict, Clark thinks that "Friel argues for both sides of the question," and that "Without an abundance of natural resources, Ireland would be hard put to enter the modern world without the English language. However, one should be free to live in a world (language) that is beautiful and ornate."