Campus & Community
Wednesday is Campus Sustainability Day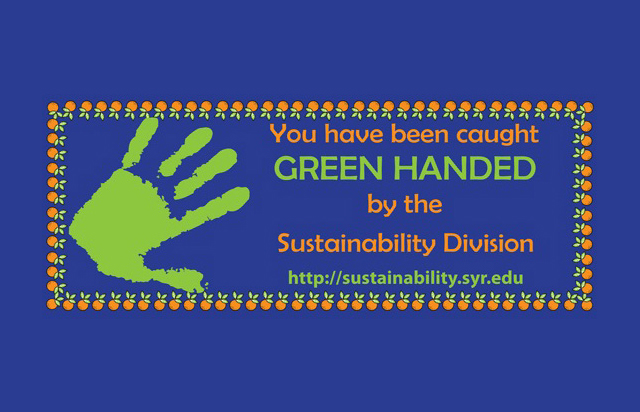 Syracuse University will hold its first Campus Sustainability Day Wednesday, Oct. 23. Campus Sustainability Day is a day for higher education all across the country to celebrate sustainability and encourage college campuses to be green.
SU is planning various events for Wednesday to raise sustainability awareness on campus. From 11 a.m.-3 p.m., staff members of SU's Sustainability Division will be handing Mr. Goodbar candy bars to people seen performing a "green" or sustainable deed with "you've been caught green handed by the Sustainability Division" printed on them.
That evening, a Taste of Central New York Dinner will be served in all five dining halls. The dinner features food produced in New York state, including New York apple cheddar pizza, cider-braised brisket, roasted squash and cheesecake from such vendors as Beak and Skiff, Chobani Greek Yogurt, Dinosaur Bar-B-Que and Sal's Birdland.
Ending Campus Sustainability Day will be a free screening of the documentary "YERT: Your Environment Road Trip" in Watson Theater at 7 p.m. The documentary follows three friends as they travel to all 50 states in search of groups, organizations and individuals fighting the planet's current environmental problems.
Campus Sustainability Day was started by the Association for the Advancement of Sustainability in Higher Education. The day is always held the fourth Wednesday in October and celebrates sustainability in higher education.  Colleges and universities plan events on Campus Sustainability Day and throughout the week that encourage all educational disciplines and departments to participate in green efforts on campus.