Campus & Community
SU Symphony Orchestra to Present Belfer at 50 Concert Nov. 1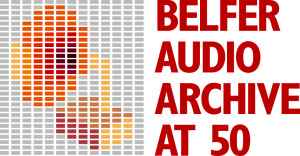 The Syracuse University Symphony Orchestra (SUSO) will present a concert in conjunction with the 50th anniversary of SU's Belfer Audio Archive on Friday, Nov. 1, at 8 p.m. in the Rose and Jules R. Setnor Auditorium, Crouse College. The concert is free and open to the public; free tickets are available at the Schine Box Office.
The SUSO performs under the direction of James Tapia, faculty member in the Rose, Jules R. and Stanford S. Setnor School of Music in the College of Visual and Performing Arts. The performance will feature Setnor faculty members Janet Brown, soprano, and Steven Heyman, piano. The program will include Waxman's "Rebecca Suite," the world premiere of Setnor faculty member Andrew Waggoner's "Goodnight Moon" and Rósza's "Spellbound Concerto."
Parking is available in the Irving Garage on a space available basis. Additional parking is available in the Waverly, Harrison and Lehman lots. Campus parking availability is subject to change; contact the Setnor School at 315-443-2191 for current information or for Setnor Auditorium concert status updates.
The Belfer Audio Archive will celebrate its 50th anniversary with a series of lectures, concerts and film screenings from Oct. 31-Nov. 2. Developed by a team of faculty, librarians and members of the University community, the events will highlight the Belfer's rich heritage and illuminate the importance of recorded sound to music-making in the 20th century, and the legacy of those practices on music today.
For more information and a full schedule of events, visit http://belferat50.syr.edu.