Arts & Culture
SU Hosts Imagining America National Conference this Weekend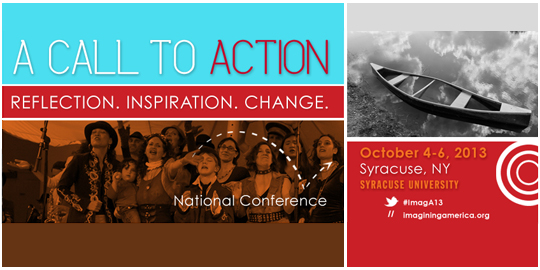 Four hundred people from colleges and universities from across the United States will come to Syracuse University Friday through Sunday, Oct. 4-6, for the Imagining America: Artists and Scholars in Public Life (IA) annual national conference. Their common mission is to find ways and means to strengthen the democratic purposes of higher education. Structured as "A Call to Action," the conference will convene college presidents, faculty, staff, students, artists, designers and community members to share research and stories especially about how arts, design and humanities can increase civic virtue, help solve community problems and celebrate local life.
The conference's keynote address–a conversation between SU Chancellor and President Nancy Cantor and Chief Oren Lyons, faithkeeper of the Turtle Clan, Onondaga Council of Chiefs of the Haudenosaunee Confederacy–will take place on Friday at 10 a.m. at Syracuse Stage (820 E. Genesee St.). Cantor and Lyons will share personal stories about being change agents in this region and discuss the issues shaping this unique historical moment.
On Friday afternoon, conference participants will visit sites of innovative campus-community collaboration, including the SU Office of Community Engagement and Economic Development, Talent Agency, Near Westside Initiative, The Warehouse, Gear Factory, SaltQuarters Gallery, Skä•noñh Great Law of Peace Center, Community Folk Art Center, Matilda Joslyn Gage Center for Social Justice Dialogue, South Side Initiative, Connective Corridor, Hendricks Chapel, ArtRage Gallery, Syracuse Cultural Workers and Central New York Regional Market. Concurrent with the site visits on Friday afternoon, Cantor will co-host the IA Presidents' Forum with more than a dozen college presidents across the country and regional government officials to discuss opportunities for higher education's civic mission.
The D.R.E.A.(M.)3 Freedom Revival (DFR), a Syracuse-based grassroots theater company that uses music and theater to spark conversations about democracy, will perform "A Prophetic Vision for Education" on Friday at 7:30 p.m. at Plymouth Church (232 E. Onondaga St.). Open to the public, the performance will feature the Syracuse Community Choir and guest "preacher" Barbara Ransby, University of Illinois Chicago, and author of "Ella Baker and the Black Freedom Movement: A Radical Democratic Vision" (University of North Carolina Press, 2005).
Saturday, the conference's morning plenary (at WCNY Studios, 415 W. Fayette St.) will launch the first issue of Public: A Journal of Imagining America, published by Syracuse Unbound, a joint imprint of SU Libraries and SU Press. Public breaks new ground as a hybrid online multimedia journal and archive, with innovative web interfaces to peer-reviewed multi-modal scholarship and creative work, providing unique forms of access to a variety of modes of expression. Foregrounding the arts, design and humanities in public life, the first issue explores the linked fates and futures of universities and their surrounding communities.
There will be a number of sessions during the day on Saturday and Sunday at The Warehouse (350 W. Fayette St.) and other nearby locations on topics that include Engaged Undergraduate Education and Publicly Active Graduate Education; Partnering with Public Humanities Centers and State Humanities Councils; Art and the Environment; Food Justice/Food Sovereignty; The Nation Inside: Higher Education and the Prison-Industrial Complex; Integrated Assessment; K-12/Youth Education; Public Interest Design; and more.
On Saturday at 7 p.m. at Plymouth Church (232 E. Onondaga St.), conference attendees will have the opportunity to attend Meredith Monk's A Celebration Service, a performance in the form of a luminous service celebrating the universal quest for spirituality.
Sunday, the morning plenary (at WCNY Studios, 415 W. Fayette St.) will focus on IA's ongoing full participation action-research with the Center for Institutional and Social Change at Columbia University Law School. Leaders from 21 participating schools will speak about ways to build higher education institutions that enable people from all communities, backgrounds and identities to participate fully, and in the process, to build collective knowledge and capacity needed to solve difficult public problems.
To foster individual and collective actions that advance the democratic purposes of higher education, IA is employing an experimental approach that combines information collection, discourse and analysis. Led by writer Arlene Goldbard, the closing plenary sessions on Saturday and Sunday evening will map the actions participants want to take and collectively consider questions of strategy.
Registration for the conference is available on site. Join the conversation virtually on Twitter by following @ImaginingAmer and hashtag #ImagA13, IA's Facebook page and the IA blog on The Huffington Post. For more information, review the conference schedule or e-mail connect@imaginingamerica.org.