Protecting Your Devices and Data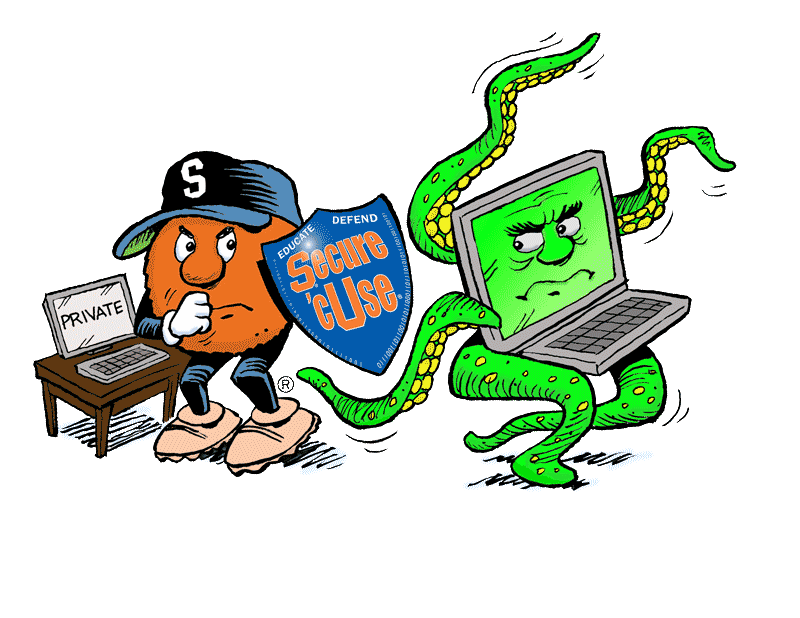 Securing your personal computer, tablet and smartphone—and the data they contain—is an ongoing process. The following steps and precautions can protect you from identity theft and data loss by drastically reducing the likelihood that your device will be hacked, infected by malware or stolen or irretrievably lost.
Guard against hackers and malware
Use anti-malware software (even on Macs). These programs work to protect you against viruses, worms and other types of malicious software trying to infect your device. Typical anti-malware software will do regular full system scans, "passive" protection in which they are always running, and email, browser and removable media monitoring.  Make sure they are set to automatically check for updates at least once a day. ITS recommends Microsoft Security Essentials, a free download for Windows 7, Windows Vista and Windows XP. Windows 8 comes with Microsoft Security Essentials built in. For Macs, ITS recommends Sophos Anti-Virus for Mac and ClamXav.
Turn on your firewall and automatic updates. Firewalls protect against threats from the Internet. For instructions on turning on firewalls for different types of computers, visit Answers.syr.edu and enter "firewall" in the search box. Automatic updates enable your computer to automatically download the newest software patches and fixes. Enter "automatic updates" in the Answers search box (see above) for instructions for your computer.
Keep browser, programs and plug-ins up-to-date. Java, Shockwave, Flash, Adobe and others have all probably prompted you for updates. Outdated applications and plug-ins are the most common attack vector for hackers and malware. Ninite is a useful program for updating all of your applications and plug-ins at once, free of bundled software and via trusted channels.
Download software only from trusted sources. Don't get your software from mass software download websites, or via email links; instead go straight to the publisher. Mass download websites often make you unintentionally download a malicious program. Other times they will just bundle adware right in with your download.
Keep your private information private. Be very cautious about displaying identifying details about yourself, and your friends and family publicly on the internet, especially on social networking sites. Studies have shown that people may be uniquely identified with as little as gender, birth date and zip code. With just that information, identity thieves and marketing firms can use or profit from your identity.
Use two-factor authentication whenever possible. Two-factor authentication can be described as "something you have and something you know." You already know one thing—your password. However, that knowledge can be given away, stolen or lost. The second factor is usually a randomly generated number or code that you enter along with your log-in credentials. This code comes from either a device you already own (or "hard token," given to you by a site administrator) or via a text message sent to your phone (or "soft token," sent to the phone number you embedded in your site profile). Only someone who has your device will be able to log into an account with two-factor authentication enabled.
Avoid "free" internet connections. Free or open internet connections—almost always WiFi—like those offered by cafes and airports are often unencrypted. That means that your data isn't secure or protected, and is exposed to others using the same network. If you need to connect when you're away from SU's secure networks, use SURA (SU Remote Access), which extends the SU network through a virtual private network (VPN) to your device.
Prevent device theft and personal vulnerability
Studies show that more than 2 million laptops are stolen each year. The mobility of phones, tablets and laptops make them an easy target. You can protect your devices and yourself from theft, data loss and stolen identity by following this advice.
Keep it safe. Don't leave your device alone, even for a minute. If you're not using it, lock your device in a cabinet, drawer or use a security cable. Security cables and locks are sold at the SU Bookstore.
Make your device different than everyone else's. This makes it less attractive to someone who might steal it and say they thought it was theirs. Unique markings make the device harder to resell, so it's less likely to be stolen. Use a permanent marking, engraving or tamper-resistant commercial asset tags. Don't use your Social Security Number. STOP Theft Tags have proven to be effective.
Delete personal information from your device. Search your device for personal data and delete it. This includes your social security number, credit card numbers, net ID's, passwords and other personally identifiable information. Someone who steals or finds your device can use this information to steal your identity and access your accounts.
Back up your data often. Keep a copy of important files from your device on an external drive, or an online cloud service. Your photos, papers, research and other files are irreplaceable and losing them may be worse than losing your device.
Register your device with its manufacturer to increase the chance you'll get your device back if it's stolen or lost. Registering will "flag" a device and if someone else sends it in for service, you should be contacted. If your device is stolen or lost, notify the manufacturer right away.
Record and store the serial number and network card serial number (also known as MAC address) of your device. On tablets and handhelds this is called a WiFi address. These numbers are visible to network administrators, making it easier to find and identify your device if it is stolen. Learn how to find your MAC address here.
Install and use device tracking and recovery software, like LoJack or Prey. Some software comes with remote wipe capabilities. This feature allows you to log onto an online account and delete all the information from your laptop. There are both paid and free versions of this type of software, and each provides different levels of features. Search online to find the best combination of cost and functions to meet your needs.
If your device is stolen or lost
Contact: SU's Department of Public Safety (DPS) at 005 Sims Hall, 315-443-2224.
Email SU's Information Technology and Services Department (ITS). Their networking team may be able to find the missing device.
Quickly contact both DPS and the ITS networking team with as much as you know about the device. Your speedy report will increase the likelihood that your device will be recovered and may help others from becoming victims.
Stay informed
To receive timely notification from ITS of current information security updates and news follow SecurecUse on Twitter and Facebook. For more about information security, visit SecurecUse.syr.edu.
Find out more!
As part of SU's observance of National Cyber Security Awareness Month, join ITS's Information Security team at a live workshop on Oct. 29. The workshop will feature a talk by Christopher Croad, director of information security, and demonstrations of security threats and ways you can counter them. The hour-long workshop will be held in room 304 in the Schine student Center at 11:30 a.m., and includes pizza and great giveaways for all attendees.
Ashley Graves contributed to this article.