Business & Economy
NSF Funds OrangeGrid Improvements
The National Science Foundation (NSF) has awarded Syracuse University $498,000 to enhance SU's OrangeGrid by upgrading the campus's data network infrastructure to facilitate high throughput research computing. OrangeGrid (formerly known as the HTC campus grid) uses idle desktop computers in offices and student labs across campus to work on data-intensive research operations.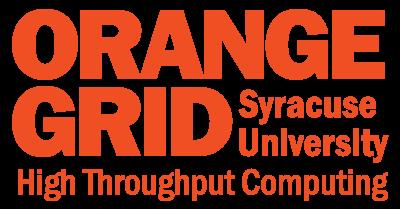 With more than 8,000 CPU cores, OrangeGrid is used by SU's research and teaching community for science and engineering applications. It supports research projects from a diverse range of disciplines, including gravitational-wave astronomy, biological physics, theoretical condensed-matter physics, computational fluid dynamics, high-energy physics, Earth sciences, soft matter physics and biomedical and chemical engineering.
"The upgrades will increase the productivity of existing OrangeGrid users, and open the grid to a wider-range of projects from SU researchers," says Chris Sedore, SU's chief information officer and principal investigator for the OrangeGrid project.
Joining Sedore on the OrangeGrid project are co-principal investigators Duncan Brown, associate professor of physics in The College of Arts and Sciences, and Eric Sedore, SU's associate chief information officer for infrastructure services.
The University's Information Technology and Services (ITS) department (which manages OrangeGrid) collaborated with campus research scientists to develop the system, which has been in production since April 2012 and uses the existing campus network infrastructure. Designed for regular desktop computing, the existing campus network limits bandwidth between the OrangeGrid's compute nodes and also between the compute nodes and the servers that store users' data.
SU receives the award under the NSF's "Campus Cyberinfrastructure—Network Infrastructure and Engineering" (CC-NIE) program, which invests in improvements and re-engineering at the campus level to leverage dynamic network services to support a range of scientific data transfers and movement.
The award will fund acquisition and installation of new equipment that will increase SU's campus network backbone from 10 Gigabit to 40 Gigabit and upgrade connectivity from the backbone to campus buildings from 1 Gigabit to 10 Gigabit.
Upgrades to networks in campus buildings will target those serving departments that have the most machines on OrangeGrid. This will provide the maximum scientific return on infrastructure investments. The project will directly benefit the faculty and students who currently use OrangeGrid and will enable broader use of its computational resources across the campus.
"OrangeGrid is currently providing about 4 million hours of compute time per month," says Eric Sedore. "The improvements we're putting in place will enable OrangeGrid to serve new areas of science, and allow researchers at SU to apply more computing time to a wider diversity of scientific work."
OrangeGrid is an important resource for SU's faculty and students. The combination of easy access and computing power make OrangeGrid especially important to beginning researchers and small groups that do not have their own computing resources. Undergraduate and graduate students from the L.C. Smith College of Engineering and Computer Science and The College of Arts and Sciences have access to OrangeGrid, giving them early experience with high-throughput research computing.
"OrangeGrid is a phenomenal resource and opens up a whole new range of computational problems that we can address," says Brown. "This grant will enable us to invest the time and effort to increase the things OrangeGrid is good at and allow us to deploy much larger data-intensive computational tasks. The more computational resources we have the more science we can do, that's the bottom line."
For more information on OrangeGrid, including how to put it to work on a research project, contact Eric Sedore at 315-443-3534 or essedore@syr.edu.