Campus & Community
Movement on Main Prototype comes to Near West Side Nov. 6
The Near West Side Initiative (NWSI) and UPSTATE: A Center for Design, Research and Real Estate in the School of Architecture invite members of the community to experience a prototype of the Movement on Main competition-winning design, "Light-Play!," on Wednesday, Nov. 6, from 11 a.m. to 1 p.m. at 115 Otisco St.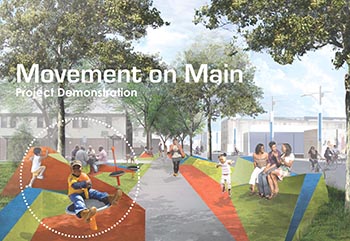 The winning design, submitted by STOSS Landscape Urbanism of Boston, was announced in April. The project demonstration will give community members an opportunity to interact with the design and proposed materials, and to meet the designers in person. Lunch will be provided. Those attending are asked to R.S.V.P. to Maarten Jacobs at mjacob01@syr.edu.
City and county officials, and Near West Side youth from Blodgett K-8 School and Fowler High School, will also be in attendance.
Movement on Main seeks to tie together the investments being made on Wyoming Street as a part of the revitalization of Syracuse's traditionally impoverished Near West Side neighborhood. This street is anchored on the north by the new WCNY broadcast facility and on the south by the rehabilitation of the Nojaim Bros. grocery store and the newly constructed St. Joseph's Hospital health clinic. This unique and innovative street redesign will create a new public gathering place that encourages the community to engage in the neighborhood's emergent creative life through a variety of movement and new technologies.
"Light-Play!" focuses on shaping healthy bodies, a healthy street and a healthy—and vibrant—community in the Near West Side. The design plays with light and colorful materials to create a new identity for Wyoming Street, a new activity center for neighborhood life and playful new surfaces and structures that inspire movement in people of all ages. The design includes activity mounds (small and large), seating elements and rain gardens—arranged as social rooms along the street that allow for people to sit, jump, skip, run, sled and play. Additionally, projected lights are activated at night by people via motion sensors and reflective surfaces.
The design takes a broad understanding of health, one in which physical, psychological, social, environmental and public health are all intertwined and can contribute to an enhanced sense of community. "Light-Play!" addresses all of this in a concentrated and fun streetscape that beckons people to interact, to move, to engage.
The Movement on Main competition was enabled by funding by the Educational Foundation of America. For more information, additional images of the winning design and a full list of sponsors, visit the competition website at http://movementonmain.com.
"We are thrilled to present a prototype of Movement on Main to the community," says Jacobs, director of the NWSI. "Knowing how hard it is to get a real feel for a project like this just based on a drawing, we felt it was really important to create a small-scale, interactive installation that allows people to experience the materials, the colors and some of the exercise equipment that has been proposed."