Campus & Community
Make Your Passwords HRD2CR@K!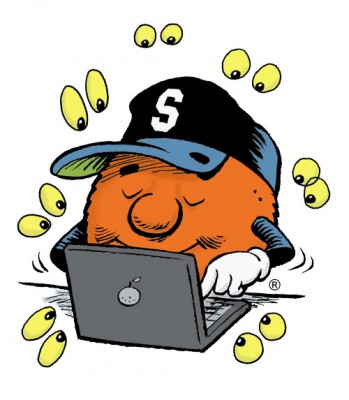 Passwords are the keys to your digital and online assets. They can be the most effective defense against unauthorized access to your confidential data. That's why they're the number one target for hackers trying to compromise your data. Below is sound advice for ensuring safe and effective passwords.
Manage your passwords
Don't share your password with anybody, including your peers, friends and family members. Nobody at Syracuse University, including Information Technology and Services (ITS), will ever ask for your password. Do not respond to any requests to reveal your password or other private information, including online and email requests. Create a strong password, change your password often and report to ITS if anyone is using your account without permission. Don't use the "remember password" feature on applications, and use a different password for every site and application. Treat your password like the PIN for your ATM card—as your secret!
Use safe and strong passwords
Passwords are like passports or blank checks. If lost or stolen, they can provide hackers access to your personal, financial and work information. Make strong passwords for your accounts to keep your personal information safe.
To make a strong password:
Use a minimum of 8 characters, more if the account will allow. Longer passwords are stronger passwords.
The password shouldn't be found in the dictionary or contain your name or SU NetID.
At least 4 characters must be different.
Use at least one uppercase and one lowercase letter.
Use at least one numeral
Use at least one of the following non-alphanumeric characters:
` ! # $ & * ( ) – _ = \ | [ ] ' ; : / ? . ,
Visit the ITS website for some ideas on how to create a strong password, or follow the advice here. The longer and more complex your password, the safer your information will be. Check the strength of your password on a reputable site. Try Microsoft's password checker here.
Remember your passwords
Password manager software like LastPass, Passwordsafe, KeePass, and 1Password will keep your passwords in an encrypted environment available only to you. Currently, no password security software is offered or supported by SU. However, these and others are available free, and most make it possible for you to remember one master password to unlock the program while the password manager does the rest. Some password managers can generate randomized passwords, change your passwords and automatically enter your credentials in online forms. At least one, LastPass, works on multiple platforms. Only as a last resort should you write your passwords down. If you do, don't leave them near your computer. Keep the paper in your wallet or purse with your credit cards and money, where your passwords will be safe as they are.
Protect your passwords
On a shared computer, make sure to log out and close the browser after you're finished. This will prevent others from accessing your passwords. Don't enter your password or personally identifiable information on a site unless you are sure the site is certified. Change your passwords on a regular basis, especially those that allow access to your personal or financial information.  Change them right away if you have any reason to believe they've been compromised.
If your password is hacked
If you suspect your University account or password has been compromised, immediately change all your passwords. Contact your local IT support team, or the ITS Service Center (if you're a student) at 315-443-2677 or help@syr.edu. And email details to the IT Security Team at itsecurity@listserv.syr.edu.
Stay informed
To receive timely notification from ITS of current information security updates and news follow SecurecUse on Twitter and Facebook. For more about information security, visit SecurecUse.syr.edu.
Find out more
As part of SU's observance of National Cyber Security Awareness Month, please join ITS's Information Security team at a live workshop on Oct. 29. The workshop will feature a talk by our director of information security, Christopher Croad, and demonstrations of security threats and ways you can counter them. The hour-long workshop will be held in room 304 in the Schine Student Center at 11:30 a.m., and includes pizza and great giveaways for all attendees.