Campus & Community
Joint LCM, UME Worship Service to Be Held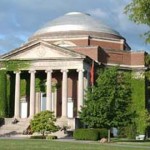 For Orange Central Weekend, the Lutheran Campus Ministry (LCM) and the United Methodist Ecumenical Campus Ministry will jointly hold an ecumenical worship service on Sunday, Oct. 6. The full Lutheran liturgy will be held at 11 a.m. in Hendricks Chapel, led by the Rev. Gail Riina and the Rev. Colleen Preuninger.
The service celebrating LCM's legacy on campus will include music from the Lutheran tradition performed by University Organist Kola Owolabi. The Hendricks Chapel Choir, under the direction of Jose Calvar, will also perform with a special flute meditation in honor of Shannon Kane '08.
The Rev. Matthew Martin Nickoloff, pastor and mission developer at the South Wedge Mission in Rochester, will preach on an experiment in baking a neighborhood church from scratch. A graduate of Princeton University and Duke Divinity School, Nickoloff is also active in the Catholic Worker movement, a Christian community practicing radical hospitality with the marginalized.
A reception in the Nobel Room will immediately follow the service.
More information on LCM can be found at http://lcmsyracuse.org.